Your liberal media: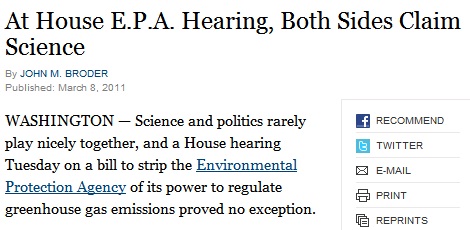 Both sides claim science. Will this article tell us if both sides have anything to back up their claims?
Any guesses?
Here's the article's examination of scientific evidence from those who believe in climate change:
The scientists themselves, when given the rare opportunity to speak, tried to steer clear of policy matters and stick to their scientific expertise. One witness, Christopher B. Field, director of global ecology at the Carnegie Institution for Science, piqued the interest of members on both sides of the aisle by detailing new research on the adverse effects of rising temperatures on agriculture. Dr. Field said crops had certain temperature thresholds above which yields dropped sharply. For corn, he said, that temperature is 84 degrees, and a single day of 104 degrees causes a 7 percent drop in yield.

Dr. Field said that extreme warming could reduce crop yields by more than 60 percent. "This new information is quite striking," he said. "Major food crops and cotton show little sensitivity to rising temperatures until you reach a threshold. That's why people are generally not aware of these sensitivities."
Here's a partial list of Dr. Field's recent work, here is but one example detailing the historic effects of precipitation and temperature on crop yields.
Here is how the NY Times article treats the "science" from the other side of the debate:
Representative Morgan Griffith of Virginia, a freshman Republican and an avowed skeptic on climate change, noted that ancient temperature records indicate periods of warming during the Mesopotamian and Egyptian civilizations and again during the rise of the Vikings, and wanted the scientists to explain just how warm it got during those eras.

Mr. Griffith also wanted to know why the ice caps on Mars were melting and why he had been taught 40 years ago in middle school that Earth was entering a cooling period.

"What is the optimum temperature for man?" he asked. "Have we looked at that? These are questions that, believe it or not, I lay awake at night trying to figure out."

The scientists promised to provide written answers.
That's a list of nonsense that has already been dealt with and debunked a bazillion times- so many times that here is a complete resource for answering just those sorts of idiotic, mouth-breathing questions. John M. Broder could have found this list, and many others like it, if he had taken .16 second to go the great gizoogle:
But there you have it- both sides do it! Both sides claim to have science! Why should we tell you that one of them is full of shit? It's not the job of a science writer in the Environment section of the NY Times to inform you…
We are doomed.