Because we're too big to cry…but seriously, isn't Michelle Bachmann living proof that, yes, we must needs weep for the Republic.*
Her latest, via TPM:
"What I love about New Hampshire and what we have in common is our extreme love for liberty. You're the state where the shot was heard around the world in Lexington and Concord."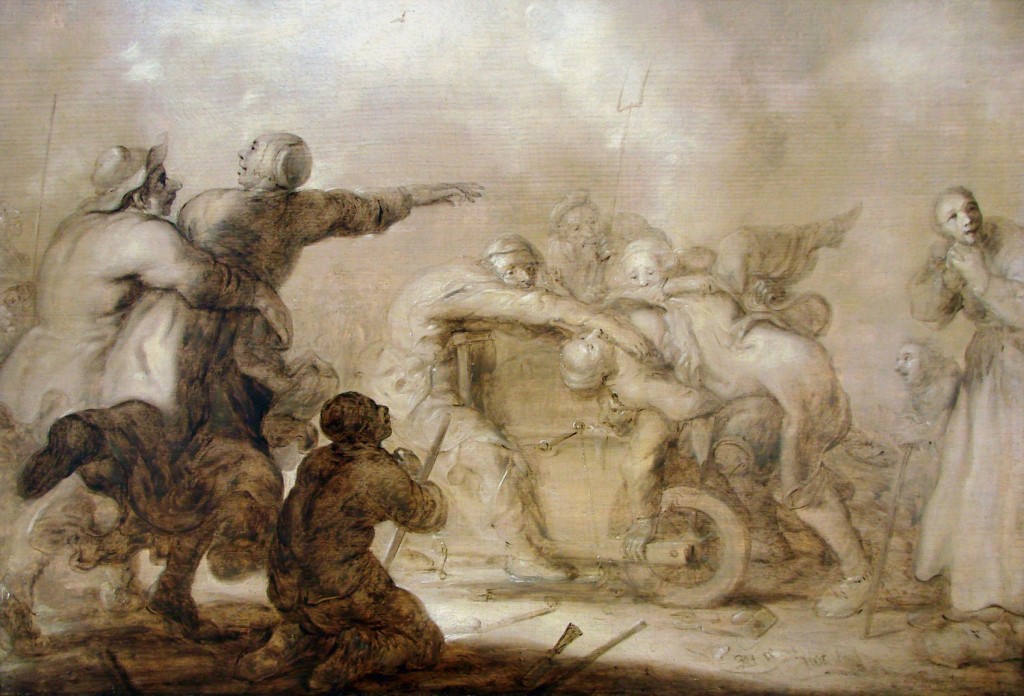 That comes as news to the fine folks who tend to one of the jewels of our national park system, not to mention how it would have shocked folks like the guy who lived here.  And how about the guy who wrote that line, "the shot heard 'round the world"? His house still stands in Concord — Massachusetts, by the way — but  he might have had the inner resources to focus on the humor here, rather than the gutbusting ignorance.
And then there's this fellow, full of local as well as national pride, who would have been deeply offended to think that his fellow citizens would ever entrust such a buffoon with legislative authority.
And so on…you get the idea.
Of course, because Bachmann is a Republican and thus personally and severally infallible, she did not, she says, really make any mistake here.  Oh no:
So I misplaced the battles Concord and Lexington by saying they were in New Hampshire. It was my mistake, Massachusetts is where they happened. New Hampshire is where they are still proud of it!
Uh…
Huh?
I mean, seriously.  New Hampshire's proud of lots of stuff, some of it actually deserving of such respect. (Green Mountain Boys, yes.  Ridiculously high property taxes because of an income tax fetish, no.  Daniel Webster, yes.  Calvin Coolidge, en route here to there perhaps not so much.**  Justice Souter — My Man!)
I'm sure that the citizens of that good state are indeed proud of the patriots (treasonous rebels, from General Gage's point of view) who defended their homes (and cached arms) in the Commonwealth of Massachusetts for the sake of still nascent national liberty.  But the fine folks of the Granite State have never, at least not in my considerable experience of the place, claimed the Minute Men and their blood and toil as local heroes.  Just doesn't happen.
And as for us worshippers of the sacred cod?  Astonishingly enough, we actually take great pride and pleasure in our revolutionary heritage.
In the spirit of comity, I invite Michele Bachmann to come as my guest this next Patriots' Day.  We'll get up at some unshriven hour and truck on out to Lexington to witness the recreation of the battle there.  We'll head next to the North Bridge and watch the muskets crack out as the British forces crest and then retreat on that bloody, militia harassed march back to the relative safety of Charlestown. She can come with me to the Jason Russell House in Arlington, MA and pick out the bullet holes that remain from the massacre that took place there 236 years ago, when British regulars invaded the house after killing its owner defending his doorstep.  Later, we can visit Cambridge Common and stand by the cannon that mark the spot where George Washington took command of the Continental Army on July 3, 1775…
…You get the idea.  Seriously, Michele, come on down!  Try to learn something.  And I double dawg dare you to suggest to anyone you meet that day that citizens of this Commonwealth don't know or cherish their history.
One more thing:  how can you tell Rep. Bachmann is all class, all the time?  Try this for her last update on her gaffe:
And by the way… That will be the last time I borrow President Obama's tele-promoter!
Oh man, oh man.  What to say?
Well, (a): dude — if you'd used the Obama teleprompter, it would have got the fact right.
And (b):  this is your modern GOP.
Somewhere, the Founders weep.
*This moment of snark offered as just a brief respite from the real tragedies in train.
**Just to make sure that per Different Cat Lady's comment below, the joke here is obvious.
Image:  Adriaen Pietersz van de Venne. "Altogether Too Stupid,"  (The scene depicts a peasant woman getting her wits sharpened on the knife-grinder's whetstone, while onlookers gather.) Before 1662.