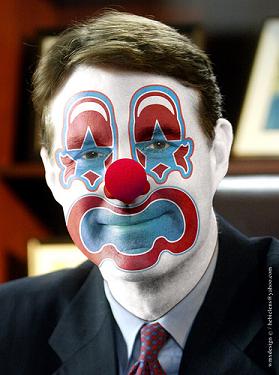 Roger Ailes, of course:
Fox News officially announced on Monday afternoon that former Democratic Senator Evan Bayh is becoming a contributor to the network.

Michael Clemente, the network's senior vice president for news, announced the move in a statement. He said that "Senator Bayh's decades of experience in the political arena and his participation in key decisions in Washington will lend a valuable point of view to the entire Fox News lineup."

"I'm pleased to offer analysis of public policy and politics to the millions of Americans who get their news from Fox," Bayh said in the statement.
I don't watch Fox, and I don't listen to Evan Bayh except to mock him, so this won't have much of an impact on me. I do, however, pity the poor bastards at Media Matters and elsewhere who monitor the network, because watching this smug prick on Fox concern trolling over the deficit and begging for "sacrifice" from the proles while his wife collects seven digit checks from finance and pharmaceutical firms will surely be nauseating.
(via)