Blue is not my dog. He belongs to a neighbor down the street. He was one of the first dogs that Max met when we started to bring Max to our local dog run.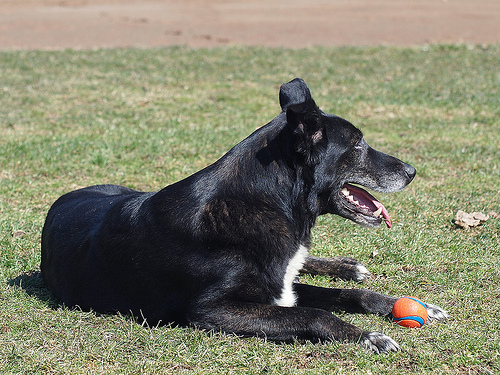 We do not know much about the first few years of Blue's life. At some point his family came south from Canada for an errand and they left their dog in Pittsburgh for a reason that nobody knows. Blue's condition at the time suggested abuse. Blue passed to my friend's nephew, who thought of 'having' a dog in exactly the same way that you 'have' a swing set that rusts away in the back yard. After a while he, or someone, bought Blue a dog house, but by then Blue seemed to like sleeping out on the frozen ground. After a year or two Blue stayed with my neighbor while his nephew sorted out a rental situation. My neighbor and the dog both decided that the new situation served everyone better, and the nephew went with the will of the majority.
Blue's breed background is an open question. You can see some timberwolf in his deep chest and a noticeable shoulder hump, and you can hear it in a bark that sounds like the end of the world. That wolf blood may let him tolerate cold that has my dobie Max shivering in the time it takes to step out for a piss. The other side is anybody's guess. Flat-coated retriever maybe? The cold didn't bother him nearly so much as being left in backyard Siberia. For all that timberwolf blood Blue loves people. He's a people-centric bellyrub junkie that stays within a few feet of my neighbor whether he's on leash or not. He practically hops up and down when he sees someone familiar and he'll whine an eager, basso whine that reverberates in that wolf voicebox until he can run up, lean gently on your legs and look up as if you're handing out steaks.
Some time in the past Blue stepped into a dark street and surprised a car or truck. He was lucky and made it through, but his hips never recovered all the way and his top speed now is a kind of bouncing lope. He will run after a ball, in fact he'll practically beg you to throw it, but most of the time he'll lie down where he caught it and zen out for the afternoon. If Max comes to ask for the ball he'll hop up and bark like armageddon; it's a bluff and Max knows it. Max, a card-carrying marshmallow himself, rolls over and lets Blue have his ball. If a person walks over Blue will lie on his back and waits for a bellyrub. At that point the only thing he needs is a snowdrift to burrow his happy muzzle in.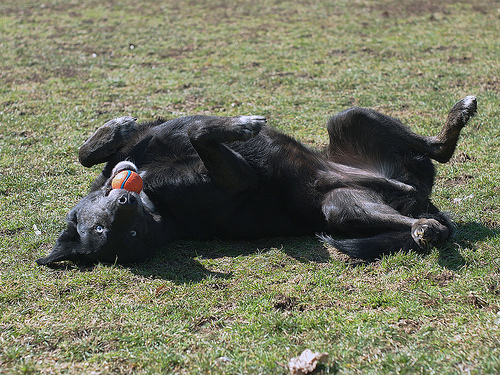 The name Blue, of course, references his icy-bue eyes. Blue is not my dog, though sometimes I take him out when the family is away. He is one of my favorites, though. If rescues all turned out like this I would take a hundred.