I'm sure you're tired of us hearing us all whine about minutiae like Bobo's new book, the comments on this blog, and nuclear radiation, so I thought I'd do a feel good post about wine. I went to a wine dinner last night where I tried wine from Pennsylvania (a Bordeaux blend), Idaho (riesling), Missouri (some kind of weird dessert wine), and Mississippi (a Muscadine, whatever that is). The Mississippi wine was from Natchez. I like that because there's a Solomon Burke song that mentions Natchez.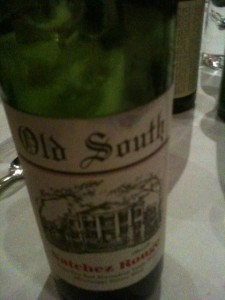 There is wine made in all 50 states now. Here's a cool feature where some guy from Time reviews a wine from each state.
I'm off to watch NCAA basketball.
Have a good Friday!