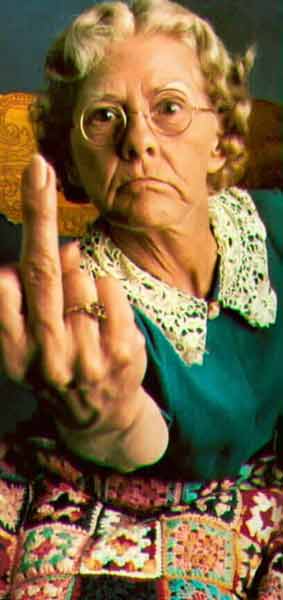 I can not spend the rest of my life fielding emails and policing bullshit behaviors in the comments section or reading emails from people who are offended by such and such. I can't, and I won't.
Something has to give. I don't know what has gotten into everyone, or what has happened, but between the spamming threads with comments, the creepy racist and misogynistic bullshit, the sock-puppeting, and then the delicate flowers who are deeply offended by anything and everything, I'm tired of dealing with your bullshit. I'm sick of it, and I don't know what to do. I have no idea why half of you get offended by what random people on the internet say about you, and I don't know why the other half of you insist on being assholes.
You tell me what I am supposed to do, because I am sick of the damned whining. My gmail account has turned into fucking Heathers- "I'm not reading your blog any more because people are mean and bullies!" "Why don't you do something about X?" "Why did you ban me for making repeated creepy statements?" "OMG- someone is a sock puppet!" "Someone said something mean to me!" And that doesn't even go into the spam I now receive from everyone's favorite cudlip-basher, accusing me of single-handedly elevating Erik Kain to a premier punditry position where he can spew glibertarianism.
I'm sick of it. Tell me what to do. Or- toughen up and grow up and learn how to use Cleek's spam filter. I'm at my god damned breaking point with you drama queens. Knock it off.
And now I will get 100 more emails, each from different people who think this post is all about them. You are right.