For those of you who participated in the January blood drive, next week will be giving time again, so consider this a gentle reminder. Anyone else interested in giving should check out the Red Cross site for more information.
The reason I started a blood drive was because the Chairman of the Pima County (Tucson) Democratic Party suggested it as a productive response to a Tea Party "Dump Dupnik" protest. Dupnik, you'll remember, was the Sheriff who served up a few home truths after the killing spree and assassination attempt on Gabrielle Giffords. Since it's been a couple of months, let's check in and see how that dump is coming along:

Looks like they need to push a little harder.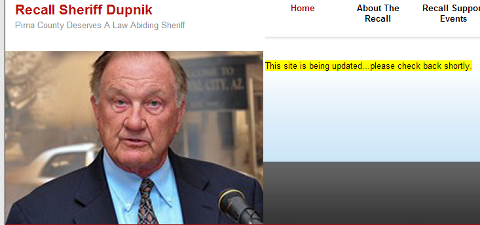 But don't worry, this site will be "updated soon", perhaps after a few prunes are ingested. Hey, maybe they'll break some news after breaking wind:

I'll be giving blood long after the teatards who were butthurt over Dupnik's truthful statements have moved on to the next nothingburger fauxrage. I hope you'll join me.