The power company is turning off the power in my area to perform some sort of upgrade, so I am busy stashing candles, flashlights, my kindle, and liquor around the house in strategic locations. I am also on the lookout for cords, shoes, and sharp things, because if there is a way to trip and get hurt in the dark, I will find it. I also have 911 on speed dial and will probably spend the night in a lazy-boy wearing a lacrosse helmet and body armor. I might wear pants, too.
What are you all up to?
*** Update ***
Here's a live action shot of Lily trying to come up onto my lap and burp in my face, which is apparently how she has decided it is appropriate to thank me for her dinner: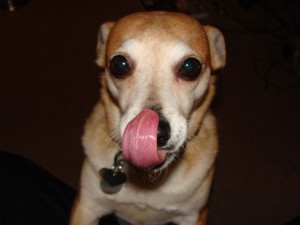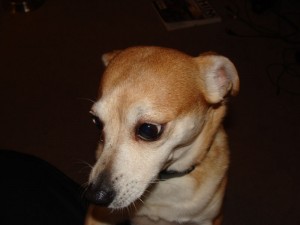 My dad makes fun of me because I get very upset when anyone says anything mean about Lily (they are Jack Russell snobs and think Lily doesn't have enough "personality"), and one of the ways he gets me worked up is by calling her a "bug-eyed worthless little mutt." I happen to think she has ample personality, as all of it is dedicated to loving me. I love her back.