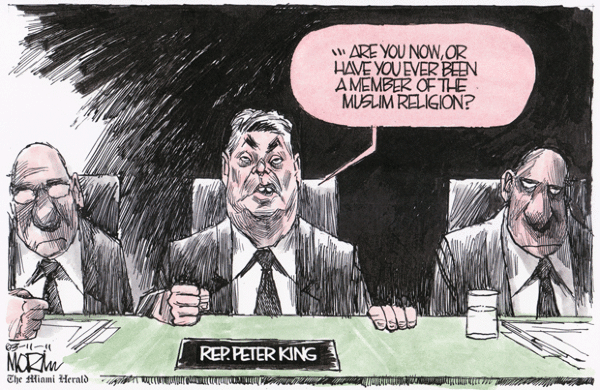 If it is better to be lucky than good, Rep. Peter "When White People Do It, Then It Is Not Illegal" King is probably thanking Cthulu that the Japanese disaster distracted so much of the media from his pathetic little show-trial-lite exhibition Thursday before last. "The Collective" at Esquire on fearmongering in politics:
… Representative Peter King opened up his investigation of the "radicalization of American Islam" while dodging questions about his own outspoken support in the past for the Irish Republican Army. Desperate to get his show on the road, King split a bunch of unlikely hairs, convinced nobody with a brain, either here or in Ireland, and then dropped the gavel on what very likely is going to go down in history as the most nakedly bigoted performance by a congressional committee since the Fugitive Slave Act was under discussion. If you would like a free trip to Washington, you should declare yourself a Muslim who knows exactly what the cabdriver down the block is plotting. At which point, Peter King will fly you to D.C., put you on television, make you famous, and then perhaps take you down Capitol Hill to The Dubliner so you can sing "The Rising of the Moon" in Farsi. Act today!
Tiffany Stanley, TNR, on "the unraveling of Peter King's hearings on radical Islam":
Fascinatingly, the discussion broke down largely along demographic lines, pitting the Democratic members of the committee—overwhelmingly women and Hispanic, Asian, and African Americans—against the Republicans, who were overwhelmingly white and male. "I believe this hearing is discriminatory," said Democratic Representative Laura Richardson of California. Her side was mainly focused on the efficacy of profiling or singling out Muslim Americans in the investigations. Cedric Richmond, an African American representative from Louisiana, explained, "It's a worry for me when so many people in Congress and in this committee who have never been the victim of profiling are quick to say that profiling is a proper crime fighting tool even if it isn't."
Dana Milbank, at the Washington Post, discussing "Rep. King's Red Scare":
Peter King staged his investigation into the loyalty of Muslim Americans in an appropriate place: a hearing room once used by the House Un-American Activities Committee…
__
King and his courtiers were evidently sensitive to appearance, because many of them prefaced their accusations the way people sometimes say "some of my best friends are gay."
__
"I have many Muslim friends," said Rep. Tim Walberg (R-Mich.).
__
"They are our neighbors and our friends," agreed Rep. Scott Rigell (R-Va.).
Let us call a spade a spade, readers, and a mucker a mucker. 'Term of endearment' may be how Wikipedia heard it, but in the NORAID-enabling Irish-American enclave of my birth, a mucker was defined as someone everyone called "friend" because you certainly didn't want him as your enemy… and he was known to divide all the world into those two categories. My fifth-grade religious teacher (a nun of the Dominican teaching order) once explained that St. Peter was a mucker, one of those guys always photographed just to the right and slightly behind the big man, or sitting third from the center in the row of chairs at the podium. A guy who, non-violence be damned, would automatically draw first blood when the opposition came to take his leader away; someone who'd never turn you over to the authorities, but who would insistently deny ever knowing you once the arrest had been made. Upon this rock: Rep. Peter King. The man who keeps the faith with our tribal past, when every extra rabbit in the neighbors' cookpot or sheep on the village common actually did threaten to take the food out of his children's mouth. In King's world, it's Us or Them, and he intends to be among the Us.

Robert Kolker, New York Magazine, on Peter King's Muslim Problem:
… Although King has eyed runs for governor and senator in the past, the ten-term congressman doesn't seem to have career aspirations beyond keeping his current position. While it's unclear how King's hearings might poll nationally, they figure to play well in his district—­especially with his blue-collar base, many of whom have direct connections to 9/11—where King is facing a move to redistrict him out of a job. But politics alone don't explain King's motives. Something about 9/11, and the betrayal he felt from Muslims in its aftermath, seems to have triggered a fundamental shift in him. "Even today I cannot begin to describe the disappointment, anger, and outrage I felt," King wrote in a December op-ed piece. "As I became more immersed in attempting to unravel the radical Islamic threat to our nation and our civilization, it became more and more obvious to me that the moral myopia of Long Island's Muslim leaders and their apologists in the media was the rule—and that there were few exceptions."
__
Even before 9/11, King took a certain pleasure in being that guy—the reality-check guy, the not politically correct guy, the everyday neighborhood guy. Now being that guy for King means being the man who remains vigilant about the threat of terrorism when others have grown complacent. So what happens when people call him a bully, an opportunist, or even a racist? How does that make him feel?
__
"Let's not get into too much psychobabble," King says. "There's a war going on."
Of course there's a war! There's always a war for men like Rep. King, and the only question to be answered is: Are you with us, or against us?