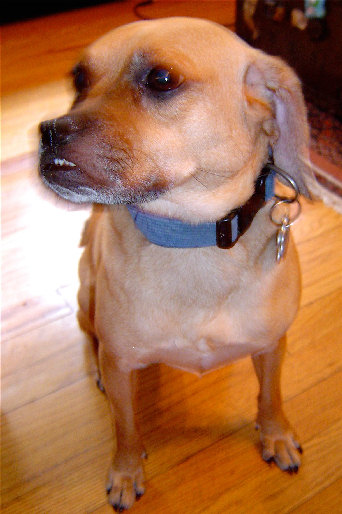 From commentor Moses2317 (aka Winning Progressive), whose dog Bard was featured here on February 14:
Saturday evening my wife and I found a stray dog in the street that didn't have any tags. We took her in, and have tried to find her owner (posted signs in our neighborhoods, comments on various Facebook pages for local dog groups, visiting the local dog parks, etc.) to no avail. The dog has a microchip, but no one had registered it and the microchip company can only trace it back to a breeder that has gone out of business.
__
We can only keep the dog for another day or two, due to the fact that we have our own dog, are taking care of a father with dementia, and are going out of town in a couple of days. So, we are looking for a good home for her somewhere in Chicago or the suburbs.
__
The dog appears to be sweet and friendly. She's about 20 pounds and house trained. She appears to be well taken care of, well groomed. On walks she has been friendly with babies, toddlers, men, women, and other dogs. She has also been friendly with our own dog in our own apartment.
__
If people are interested in taking this dog in, they can e-mail me at [email protected] We would like a reference so we can make sure we would be giving her to a good home.