I was one of hundreds of thousands who've gotten an offer for a free subscription to the New York Times for the rest of the year: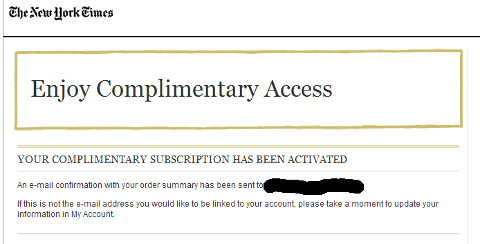 I really don't understand the whole Times strategy. I'm just the kind of digital slacker that they should be able to entice into a subscription, even though it is grossly overpriced compared to the rest of the market. Hell, I'm enough of a sucker to run their Chrome extension and their Android app. Yet they give me a free subscription that will probably last far beyond this paywall experiment.
This leads me to think that the speculation that the whole thing is an attempt to keep paper subscribers paying might be true. That's the kind of boneheaded, backward-looking plan that I'd expect from the third generation inbreed running that place. I'm surprised that Pinch the cockeyed genius didn't just shut the fucking website down to make us all buy a paper copy.
Also, too: you might get this offer if you log out and log back in to the site. I got it via email, so your mileage may vary.
(h/t reader John)