Steve M. finds a key figure in Obama's re-elect numbers: 66% of Latino voters say they are likely to vote for him, only 16% say they'd vote for a Republican. Overall, 47% say they'd vote for him, 37% say they'd vote for a Republican (these kinds of polls have huge numbers of undecideds). Obama won the election by seven points, so his "lead" here is slightly larger than it was in the 2008 election results. When you go through the figures you see what's mostly going on: he does almost exactly the same among all groups (losing the white vote by 11, he lost it by 12 in 2008, for example), except for a 14 point increase among Latinos.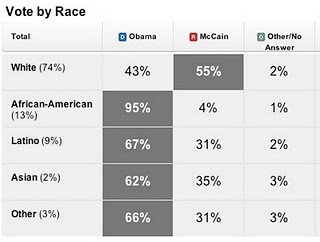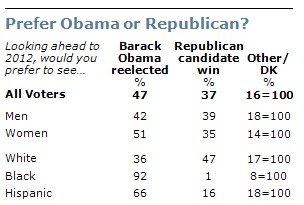 One caveat here: the overall sample was only 1500 people, so the number of Latinos in it was small enough that the margin of error is large. Still, this is a striking finding and it shows why Democrats will continue to have big advantages in presidential elections (where the proportion of non-white voters is elevated, relative to midterms) until the Republicans figure out how to appeal to Latino voters.
Personally, I don't think Marco Rubio could do this all by himself, but if Republicans lose a reasonably tight presidential election in which they lose the Latino vote by 40 plus points, I'm sure they'll take a good hard look at him in 2016.