Beautiful spring morning here- a bit chilly, but I went without a jacket this morning anyway because I like nippy mornings. Wakes me up. The kids are enjoying the weather, too: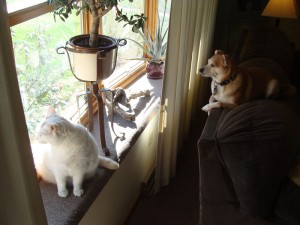 I tried to get Rosie in the picture, but she is a Jack Russell Terrier, and that means if I am standing trying to take a picture, she must be at my feet looking at me attentively to do something interesting. FASCINATE ME! BALL! WALK? DO SOMETHING!
Speaking of Rosie, the other day on twitter I was kind of mad at her, so I said something to the effect that I would give her to Jeffrey Dahmer if he asked nice. This morning I thought about what an awful thing to say that was, and then I started thinking about what Dahmer really did, and the fact that he ate brains and other body parts, at which point I said to myself "The mind is a terrible thing to taste," I realized that I never see NAACP commercials on tv anymore and I don't know why. I used to see them all the time as a kid. Am I just watching different channels and they don't show up, or have PSA's gone away. Then I began to wonder if I am clearly insane, or if everyone has streams of consciousness like this in the morning before coffee.
Also, I woke up singing the Albania song from Cheers.