Pre-publication update: Yes, I know that John has already posted on this while I made the error of dining with my wife.  But I just love the picture below too much not to press the button.  Do not mess with justice, I say.
______
Via TPM, we find that Wisconsin Judge Maryann Sumi (echoing a commenter here, what a great name for a judge) has again enjoined the state of Wisconsin from implementing the union busting law passed in dubious battle last month.
Based on the following, I'm guessing she's seriously pissed (a legal term of art, you know):
Apparently that language was either misunderstood or ignored, but what I said was the further implementation of Act 10 was enjoined. That is what I now want to make crystal clear…
adding that
Now that I've made my earlier order as clear as it possibly can be, I must state that those who act in open and willful defiance of the court order place not only themselves at peril of sanctions, they also jeopardize the financial and the governmental stability of the state of Wisconsin.
(image below possibly NSFW)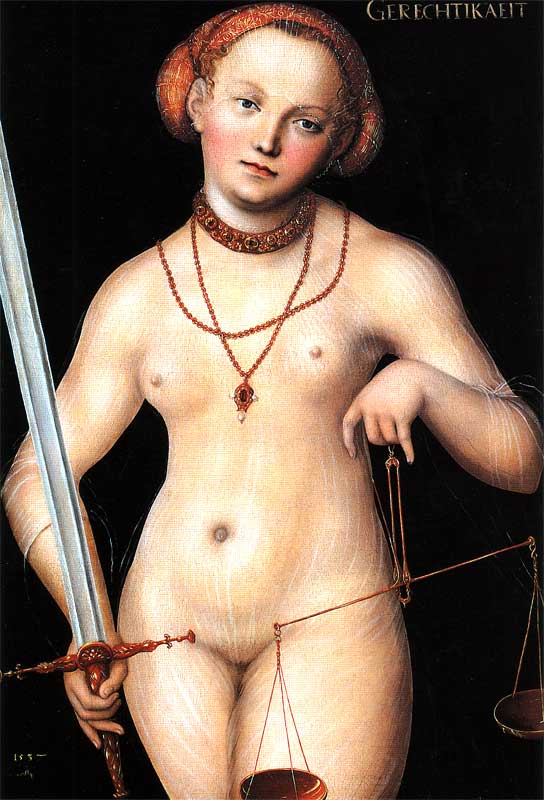 Most sentient puddles would conclude that perhaps they should obey the court's order until the substantive issues had been fully litigated.  Governor Walker and his henchmen do not share that conviction:
But minutes later, outside the court room, Assistant Attorney General Steven Means said the legislation "absolutely" is still in effect.
Please note that the speaker quoted there is an Asst. Attorney General. As in a lawyer.  As in an officer of the court.
__
So, I guess this is the time to go all Godwin.  It is important to remember that authoritarians almost always use the simulacrum of law to provide a tattered aura of legitimacy for their lawless exercise of power.  Hitler did certainly; his critical powers derived from  grants by the Reichstag.
Please note:  I am not saying Wisconsin is going the way of Berlin, c. 1933.  I am saying that the disdain for the ordinary structure of governance and law is how people behave when democracy is an accessory, and not essential to the entire idea of legitimate authority.  Courts are convenient to such folks when complaisant, and superfluous if not.
To be sure, Walker is a pissant way out of his depth, but as many others have noted, he's important precisely because he is so overt and obvious in his anti-democratic hatred of that messy business of governing.  He lets us see plainly what his slicker and more sophisticated co-conspirators plan to do:  achieve ends that could not command popular support on their own by any means necessary.
For that, I suppose we should be grateful to the claque of clumsy thugs now in power in Wisconsin.  They are showing us what lurks below the hood of the Republican machine. And so I'll say to all those right bloggers who maunder on about Obamacare or the Libyan attacks or birth certificates or whatever, if you wish to invoke the words "rule of law" you better have something to say here.
Gotta give them time, I guess, but my bet is on crickets.
Image:  Lucas Cranach Allegory of Justice, 1537
*By the way.  I do know I've been conspicuous (as in, unnoticed) by my absence lately.  There have been two reasons.  The first is a press of work so insane that I have ended each day by curling up with a scotch bottle for the five spare minutes alotted me between unconsciousness and panic.
The second is that I occasionally have these funks brought on by the sheer catastrophe of the world.  Sometimes, the accumulation of stupidity, misery, disaster and sheer capricious accident/horror leaves me gobsmacked for something to say.
It's been that way lately, and I cannot say how much I admire, for example, the front pagers and commentariat here who sustain articulate smarts and anger despite the evident awfulness of existence.  But I'm better now (though still wrecked by an insatiable inbox), so expect more Hitler references and baroque painting on a semi-regular basis.
You have been warned.