I know you all are sick of this, and I even got this picture today from a reader: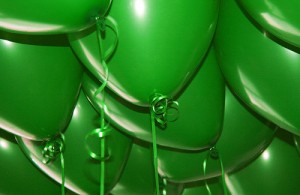 For those of you who don't know what Green Balloons means, go here. Having said I know you are sick of hearing about this, allow me just one more link. Here is Bruce Bartlett decimating the Ryan nonsense in words so clear that it might move Sullivan to tears:
A number of respected public finance economists quickly ridiculed the Heritage numbers as grossly implausible. MIT economist Jonathan Gruber said, "The Heritage numbers are insane." In response to such criticism, Heritage simply deleted some of the more extravagant figures from its analysis.

Distributionally, the Ryan plan is a monstrosity. The rich would receive huge tax cuts while the social safety net would be shredded to pay for them. Even as an opening bid to begin budget negotiations with the Democrats, the Ryan plan cannot be taken seriously. It is less of a wish list than a fairy tale utterly disconnected from the real world, backed up by make-believe numbers and unreasonable assumptions. Ryan's plan isn't even an act of courage; it's just pandering to the Tea Party. A real act of courage would have been for him to admit, as all serious budget analysts know, that revenues will have to rise well above 19 percent of GDP to stabilize the debt.
Anyone who insists there is anything remotely serious about the GOP and Ryan's plan is simply a buffoon. There is nothing brave about the plan, as it does nothing but destroy the social safety net and reward the rich- since when is that position brave as a Republican? It doesn't actually do anything about the debt, considering the numbers are fanciful and just made up, and there is a good chance it will make things worse, with the tax cuts frontloaded and the cuts to come later- we all know how that usually works out. It does nothing to shore up Medicare or Medicaid, it basically eliminates them. It does nothing to stop the rise in health care costs. Quite simply, this "plan" does nothing but transfer wealth to the wealthy and kneecaps everyone else. There simply is no reason for anyone, not even someone as mathematically challenged as Andrew, to insist this is serious. It isn't.
Most damning of all is that this simply has no chance of ever being enacted. None. Zero. Nada. Zilch. The Democrats will never go for this, and even some of the teahadists, who spent the last election cycle screaming about Obama killing Medicare and cutting 500 billion are sitting there looking at Ryan saying "Wait? Four trillion? WTF?" This plan is simply DOA. Any plan like this that has absolutely no chance of passing is not serious, it is simply masturbatory fodder for Galtian douchebags.
What if Bernie Sanders sat down, wrote a "Plan for Prosperity," and in it raised the top marginal rate on everyone over 250k a year to 70%, hiked capital gains, got rid of every deduction, got rid of all the loopholes, ended farm subsidies, put in place a VAT tax and a carbon tax, called for nationalizing the health care industry, making union membership mandatory, abolished the Defense Department and consolidated all the branches into a coastal and air defense force with 100,000 men, got rid of our nukes, allowed gay marriage nationwide, put in place a rigorous regulatory regime for food, water, environmental, and financial security, shortened the work week to 30 hours and raised the minimum wage to 22 dollars an hour, and gave DC and Puerto Rico statehood?
Actually, some of that sounds pretty good. But would Andrew Sullivan call that a serious plan? Would he call it brave? Would he insist that the Republicans come up with a counter-proposal and demand that they not politicize it. Because that is what he is doing with the equally fanciful GOP/Ryan plan.