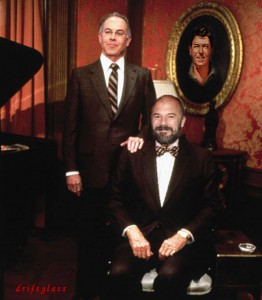 What I don't know for sure is if Brooks, Klein, Sullivan, etc. are cowardly careerist sociopaths, just plain stupid, or both.
Well, both, obviously, but I would add a couple more things- lazy, incurious, insulated, and well-rewarded for staying that way.
1.) They are lazy- Reading the commentary from Sullivan and Brooks and Klein and others, aside from being completely wrong, what stood out to me was how simply predictable it was, regurgitating the coalescing villager CW about Ryan: The plan is bold! It is serious! It took courage! It re-frames the debate! The ball is in Obama's court! Very wonky! It is a game-changer! Did I mention it is serious? The math demands it! We need to have shared sacrifice! This puts us on the right course! It's serious and bold!
Read any one of their pieces the last couple of days, and it was like conventional wisdom/villager mad libs. Actually reading the bill, realizing it isn't serious, it isn't bold, that it won't set us on the right path because it gives away as much in taxes as it cuts from the needy, realizing the only people sacrificing are the poor while the well-off are lavished with trillions in tax cuts- well, doing that and actually thinking, like Bruce Bartlett, James Fallows, Paul Krugman, Dean Baker, and others managed to do, that would be just way too much work. Better to roll with the conventional wisdom, churn out a load of bullshit, and when confronted by people that you are wrong, have a hissy fit about the hard left, whine about being picked on and someone using four letter words and capital letters, and dig in. Instead of absorbing what people are telling you, link to the National Review and McMegan, and don't even bother to figure out basic math such as 22-18. There is a word for this behavior- it is lazy. These guys are on autopilot, have their narrative, and they are sticking to it.
2.) They are also fabulously incurious- When you look at a budget like this that just decimates Medicare and Medicaid, or when you look at the GOP plan to de-fund Planned Parenthood, and simply cheerlead the cuts, you are showing a remarkable lack of curiosity. Do these folks even know what Medicare, Medicaid, and Planned Parenthood do? Do they understand what will happen to poor people with the GOP's wet dream of Medicaid sent to states in block grants? Pro-tip, you might want to look at things like the tobacco settlement money that was supposed to be for tobacco prevention and the like and see where the money is actually going. You might look at the history of block grants (and how funding gradually declines, is misused, is often not able to be put in use if the necessary structures are not in place, etc.).
The only way you could think slashing Medicare as it is proposed in the Ryan plan and then giving that same amount to the well-off is acceptable is if you simply have no idea what Medicare does and how valuable it is to so many people. You must think the whole program is full of fraud, waste, and abuse. You must think that no lives are actually being saved. That is really the only explanation for some of the behavior from some pundits. They have to think that Medicare must not really be that important, because if you slash it, it isn't going to have any results other than "saving money." It is that level of ignorance that, when someone like Debbie Wasserman Schultz accurately points out that these cuts are going to devastate the elderly, your only response is the following: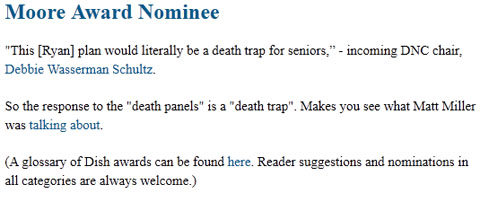 The Ryan plan does nothing to control health care costs. If it is passed, ACA is canned, and Medicare is slashed, lots of elderly will die. They will not be able to afford health care, which is why we created Medicare in the first place (because seniors were simply incapable of getting health care insurance- a fact that seems to elude everyone with an erection for this plan), and with the pre-existing condition ban removed with ACA, it will be even harder. Only a completely incurious dullard, when that is pointed out to them, would go to the fainting couches gasping "Moore Award! Moore Award!" It is simply magical thinking to assume otherwise, and those really are the only options- you have to think that Medicare does nothing, or that there is some magical way those people, stripped of the assistance and security that Medicare provides them, will somehow find health care some other way. And we won't even go into how you could think those things and still recognize that Ryan has exempted everyone over 55. He did that because while the pundits are clueless, he knows what the ramifications of his plan will be. People will die. There is nothing obscene about pointing that out.
Oh, and by the way- Palin was lying about death panels and DWS wasn't about death traps. But you knew that, right?
Or, you could also have this reaction: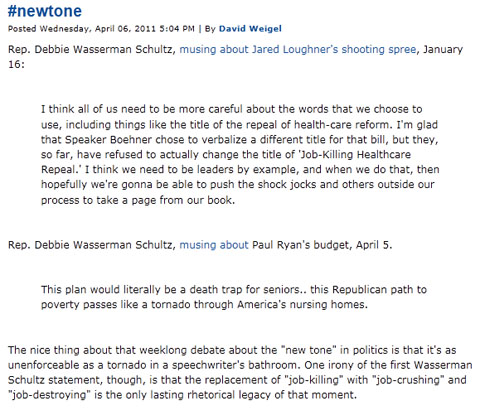 Because, you see, accurately pointing out that people will die without health care is the same thing as dangerous election hyperbole, putting crosshairs on candidates, and having fund-raisers at machine gun ranges. I suppose there is another option- these folks know that this plan will kill people, and they are just trying to control the debate and keep people from pointing it out (and I don't mean to chuck Wiegel in with the others as it relates to commentary on the Ryan plan- I think Dave just had a lame "gotcha" with DWS that he could not resist, which was then predictably used by the usual suspects to advance their story. Having said that, this type of lazy "gotcha" journalism with the false equivalencies is just another symptom of the Beltway sickness that so many of our pundits suffer from).
3.) They are insulated– Everyone of the people cheerleading the Ryan/GOP plan has the very best medical coverage, and really has no stake in this. Considering they are pundits, and will probably have platinum until the day they die, and Medicare is kind of an afterthought. I know that they get all heated up when you point out that they simply have no stake in this game (except more tax cuts!), but we have a village class of Beltway pundits who really are insulated from what the rest of the country is going through. These issues are abstractions to them, and they are a horrifying reality to everyone else. That's how you can talk about slashing trillions from other people's health care coverage while giving out tax cuts to those who don't need them and can babble about seriousness. When they have a personal stake in things, however, things change. Some of the best commentary the past couple of years during the health care debate came from Karen Tumulty when she was writing about the sheer hell her brother was going through:
The unforeseen was exactly what turned up when Pat went in for a physical on Nov. 30, 2007, his first in five years. The doctor found high levels of blood and protein in his urine, results that were confirmed in another round of tests in December. Soon after that, Pat discovered that his urine had turned brown and foamy. In the middle of all this, he was laid off from his job, and finding a new one while doing temp work was his most pressing concern. Finally, last July my brother's doctor insisted that he see a specialist, who quickly ordered a biopsy. That's when Pat, who is now 54, learned that his kidneys were failing.

The diagnosis was only the first shock. The second came a few weeks later, in an Aug. 5 letter from Pat's health-insurance company. For six years — since losing the last job he had that provided medical coverage — Pat had been faithfully paying premiums to Assurant Health, buying a series of six-month medical policies, one after the other, always hoping he would soon find a job that would include health coverage. Until that happened, "unexpected illnesses and accidents happen every day, and the resulting medical bills can be disastrous," Assurant's website warned. "Safeguard your financial future with Short Term Medical temporary insurance. It provides the peace of mind and health care access you need at a price you can afford."

Kidney failure would seem to be one of those disastrous "unexpected illnesses" that Pat thought he was insuring himself against. But apparently he was wrong. When my mother, panicked, called to tell me that the insurance company was refusing to pay Pat's claims, I told her not to worry; bureaucratic mix-up, I assumed. I said I'd take care of it, bringing to bear my 15 years of experience covering health policy, sitting through endless congressional hearings on the subject and even moderating a presidential candidates' forum on the issue.

Confident of my abilities to sort this out or at least find the right person to fix the problem, I made some calls to the company. I got nowhere. That's when I realized that the national crisis I'd written so much about had just hit home.

The previous four weeks had left my brother with more than $14,000 in bills from hospitals, doctors and labs. And that was just to figure out what was wrong with him. Actually treating his disease was going to be unimaginably more expensive. Patrick needed help quickly, and we didn't have a clue where or how to start looking for it.
Things done changed. What was an abstraction, her job writing about health care coverage, took on a whole new dimension when it hit close to home. Imagine that.
I've spent the last month helping my neighbors deal with their current health care crisis. She's not really my neighbor, as she and her sister live next to my parents down the street, but when you live in a town of 300, everyone is your neighbor. They've lived next to my folks since I was thirteen. The elder sister (76) was married to an American, and they fled Beirut to America in 1983. Her husband died, so now it is just her and her sister (70.) Her sister had been having some problems, so they went to a doctor, then went to an endocrinologist, and long story short, it appears that she has a thyroid tumor the size of a canned ham in her chest. If she does not have it removed, it will continue to grow and kill her. We don't know if it is cancerous, and there is no real way to know for sure, as it is so big that any biopsy of one area may not show anything, but cancer may exist elsewhere. Over the past few weeks, we have been to ENT doctors, cardiologists, thoracic surgeons, general practitioners, we've had biopsy, nuclear stress tests, cat scans, EKG's, EEG's, the works. In a couple weeks, she will have life-saving surgery, and she is healthy as a horse and will probably live for another twenty years.
Why am I telling you this? Because Medicare is paying for it. You, me, and everyone else who pays taxes is keeping this woman alive, and I am here to tell you it is worth every penny. She's a wonderful, witty, charming woman with a lot to give the world. Without medicare, and under the Ryan "plan," there is no chance she would be able to afford insurance, no one would insure a woman of her age with this health problem (just like it was before there was no medicare), no chance she would be able to afford the work that has and will be done, no one to provide the care she will need after surgery, and this tumor would be a death sentence. Her options would be… to die.
Why, oh why, is Debbie Wasserman Schultz so shrill!! Moore Award!! Moore Award!! Why is she violating the new tone!
On the upside, the Ryan plan will roll back ACA and the modest capital gains increase on Warren Buffett and his friends, and they will also get reduced marginal rates, Paris Hilton will get a break on the estate tax, and hedge fund managers get some love. Shared sacrifice! The math demands it! That is what serious plans for the future of America do.
4.) They are rewarded for these opinions– Peddling conventional wisdom and spewing beltway knowledge has and will be lucrative. It gets you good jobs at the Atlantic and a lifetime job at the NY Times. You get to be paid guests on cable news. You get to go out to LA and pal around with Bill Maher or yuk it up with Greg Gutfield on Red Eye. You have every incentive to do EXACTLY what you have been doing, which is spew callous, ignorant nonsense. It literally pays to spew this bullshit, while anyone who disagrees is simply mean and a member of the hard and unserious left.
So that's what we are dealing with and why. We have a ruling class of lazy, incurious, insulated dullards who value their misguided ideology more than their fellow citizens, and are paid well and rewarded for doing the bidding of the sociopaths in the money party. It's really that simple.
(Picture stolen from the always awesome Driftglass, who has some related thoughts)