In a chaotic scene characterized by shouting more typical of the British parliament, the Republican Study Committee's (RSC) alternative to Rep. Paul Ryan's (R-Wis.) 2012 budget went down in a 119-136 vote.

It was gaveled shut only after Democratic leaders started pushing members to switch their "no" votes to "present," in order to force a face-off between conservatives and the Republican leadership. A total of 176 lawmakers voted "present."
That's from the Hill.
To illustrate just how dishonest the Republican budgets really are, read Jason Kuznicki's "Return to Normalcy" budget:
It's got four basic parts:

Return to Clinton-era rates of taxation, or at least something like them. As Ezra Klein has noted, this is very likely to happen in any event, because we'd need sixty Senate votes to extend the Bush tax cuts. We'll just let them expire. As we'll soon see, our Senators will be busy enough elsewhere.
Remove the cap on the Social Security payroll tax. Yes, that means raising taxes. Yes, on the rich. Someone call the Koch brothers!
Cap Medicare spending at GDP plus 1%. This is a doozy, I know. Can we do it? We'll probably have to, like it or not, in any balanced budget plan.
Reduce military spending to 1990s levels. In other words, bring the troops home. From everywhere. Let the force shrink by attrition. Cut spending on new weapons systems. Tell the world — much of it industrialized and friendly — that they will have to pay for their own defense, because we can't afford it anymore. We've been doing way more than our fair share for way, way too long, and they can hardly say otherwise.

More or less, the plan would look like this.
This is similar to John's do-nothing budget, or the do-nothing budgets of Annie Lowrey or David Leonhardt, or my budget. All these budgets have one thing in common: the end of the Bush tax cuts. To help illustrate where that will put us in the Big Scheme of Things, a chart!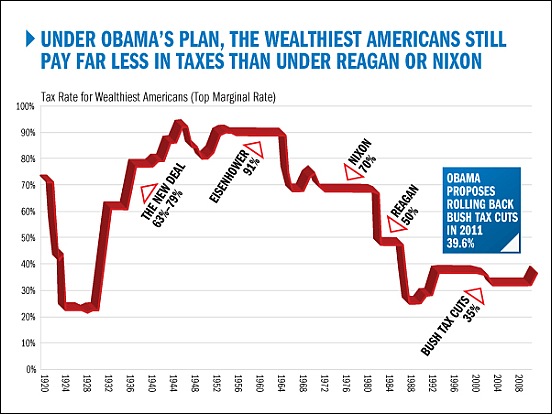 Surely letting the cuts expire will lead to America becoming Somalia. A much more Serious idea would be to let the poor and elderly fend for themselves and get rid of all these pesky healthcare entitlements.