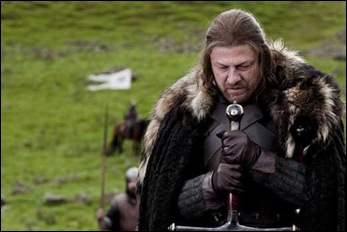 I have television in my house once again – for a little while. This is because it was cheaper to hook up television service when we were hooking up cable internet than to pay the set-up fee. It was actually cheaper to get television, a DVR, and HBO for one month than to pay the set-up fee, and since HBO was premiering its new series, A Game of Thrones, how could I resist?
I am a huge fantasy dork, and entirely unrepentant in my love of all things fantastical. (When my three year old daughter told me the other day she wished she could be in a story – not just imagine but actually be in one – I totally sympathized.)
I squandered most of my life away reading fantasy and science fiction when I should have been reading Serious Works of Philosophy and Politics. This is one reason I'm so bad at being ideological, why my political writing is so incapable of becoming grounded in one of our contemporary political factions.
Anyways. George R.R. Martin's books are among my very favorite. And not just my favorite fantasy – they are, quite literally, some of the best books I've ever read. I remember years ago – probably six or seven years ago – thinking that really I hope they never turn these into films. I hope HBO turns them into a series instead.
Well my prayers were answered, and last night the very first episode of Game of Thrones debuted on HBO. And it was wonderful. Now, maybe there will be Martin fanboys out there who hated it – if so, I have managed to avoid reading them at this point. But I found the first installment of the show absolutely pitch perfect. The sets, costumes, cinematography, casting, acting, pacing – all the components were exactly right – nothing in my imagination's vision of the books was really shattered, except perhaps that the most excellent Peter Dinklage is too handsome to be the Imp.
Adam Serwer has a good piece up at The American Prospect explaining why the complexity of the stories should provide a good alternative to the more black and white moral universe of The Lord of the Rings. He frames this as more appealing to liberals whereas LOTR had a certain Manichean appeal to conservatives. I personally think that we should avoid framing either work (or most works of fiction) in such stark terms. For one thing, I can only imagine what Tolkien would think of this current crop of American conservatives.
On the other hand, Martin is an unabashed liberal, but judging from his blog he cares a good deal more about football than he does politics. So perhaps A Game of Thrones should be framed more in terms of a good football game than anything else.
Adam also points us to this condescending claptrap from New York Times writer Ginia Bellafante who writes:
The true perversion, though, is the sense you get that all of this illicitness has been tossed in as a little something for the ladies, out of a justifiable fear, perhaps, that no woman alive would watch otherwise. While I do not doubt that there are women in the world who read books like Mr. Martin's, I can honestly say that I have never met a single woman who has stood up in indignation at her book club and refused to read the latest from Lorrie Moore unless everyone agreed to "The Hobbit" first. "Game of Thrones" is boy fiction patronizingly turned out to reach the population's other half.
Yes, because it isn't possible that the show's creators were actually going by the book – the sex must have been added to draw in women. Because obviously it's only women who will want to see bare-breasted barbarian women dancing at a Dothraki wedding, or something.
Maybe girls will enjoy the show because the girls in these books are freaking awesome (we named our daughter after Arya Stark) – or because, in many ways, this is a fantasy series even feminists can enjoy.
Actually, I know quite a few girls who never read fantasy at all who then devoured these books. Obviously Bellafante didn't bother to brush up on the literature before penning her scathing review of the series. She goes on:
When the network ventures away from its instincts for real-world sociology, as it has with the vampire saga "True Blood," things start to feel cheap, and we feel as though we have been placed in the hands of cheaters. "Game of Thrones" serves up a lot of confusion in the name of no larger or really relevant idea beyond sketchily fleshed-out notions that war is ugly, families are insidious and power is hot. If you are not averse to the Dungeons & Dragons aesthetic, the series might be worth the effort. If you are nearly anyone else, you will hunger for HBO to get back to the business of languages for which we already have a dictionary.
Right. Martin's books teach us that "power is hot". As Adam notes:
Look, I'm a geek. I like geek stuff. Not everyone likes geek stuff. That's cool. But the genre of arts review I hate the most is the kind when the reviewer, not content to savage the material itself, begins to express contempt for the audience they imagine might actually like it. With the popularity of fantasy subgenres like Harry Potter and Twilight, neither of which I'm particularly fond of, this sort of review has become less common. But it's still irritating and patronizing to the reader for the Times to publish a review in which the reviewer suggesting the audience is a bunch of loser guys in a basement tossing around 12-sided die and sharing each other's hopes and dreams of someday getting to third base, because women couldn't possibly like it.
Other than the bit about Harry Potter (dude, Harry Potter was awesome, at least from the third book/film on…) I'm with Adam here. Bellafante presumes to judge not just a genre, but an entire group of people. And we're talking about a group of people that's pretty large. Martin's books have all been New York Times bestsellers, and fantasy – if you haven't noticed – is only growing in popularity, both on film and on the printed page. Bellafante might be a really lovely person in real life, but in this review she comes across as an out of touch snob who won't even deign to familiarize herself with the work she so scornfully dismisses.
What's the point of reviewing a work from a genre that you not only loathe, but whose audience you loathe? I just don't get it.
Expect lots more of this (both well-meaning and not) from non-fantasy-types eager to find relevance for today's world in the new HBO series.
~
A Game of Thrones airs Sunday nights at 9PM ET on HBO.
Contact me at [email protected] or follow me on Twitter.