And in other news, Sarah Palin is not running for President.
Yeah, I know.  We know this.  But confirmation keeps coming in from one angle or another.  This time, TPM reports on a new memoir by a disaffected former Palin aide that describes (among much else) Palin's love of the act of governing:
a leaked copy of the manuscript Friday, describes the book by Frank Bailey "opens with an account of Palin sending Bailey a message saying 'I hate this damn job' shortly before she resigned as Alaska's governor in July 2009." The manuscript, the paper says, "goes on for nearly 500 pages, a mixture of analysis, gossip and allegation."
TPM's story focuses on Bailey's description of what look like pretty clear election law violations.  But the take home for me was exactly what lots of people have been saying for a while.  Palin is smart enough not to want to work for the money.
__
Seeming to run for President is OK–great even; watch the cash register go ka-ching!  But the whole theme of her half term governorship was an aversion to actually doing the job.
__
With each new reminder that this was so, it becomes ever more clear that there's not a bunny's chance in a greyhound kennel that she'd ever actually put herself in the way of having to go around presidenting.  This latest story is just the next reminder that we're watching a long con.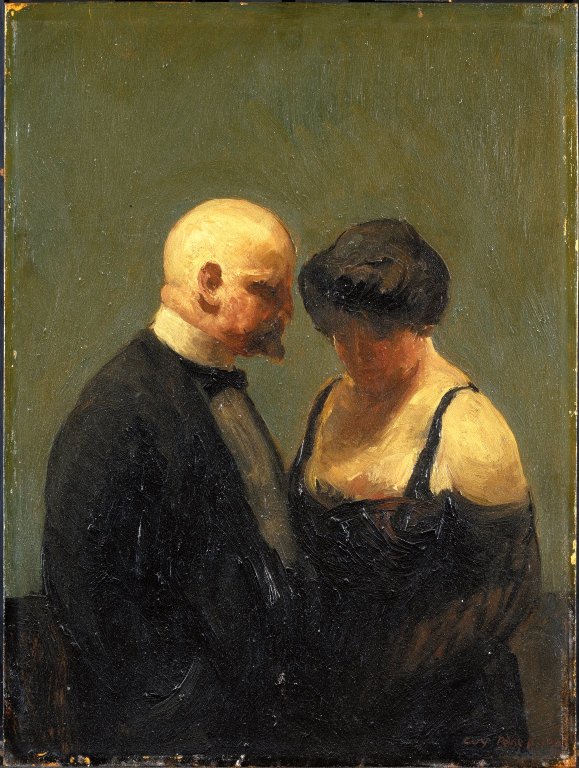 And why not?  It's been good to Team Palin for a while now.
__
In a way, I guess, this does make John McCain a job creator.  Who else could have turned the Palin enterprise into such a profit center?
Image:  Guy Pène du Bois, The Confidence Man, c. 1919. (I may have used this one before over here, in which case, I'll refund your admission cost.)