You know the drill:
1. Wingers make up crazy rumor.
2. Democrat ignores it.
3. Cries to address the rumor build, some from Very Serious People "reasonable people can have doubts about whether Democrat is a space alien, asking these questions is what journalists do!".
4. Democrat releases documents to debunk rumor. The response: why didn't he do it sooner? He's lowering himself by addressing the rumor! He's just doing this to distract people! Soon, it will be "his mother's maiden name isn't spelled correctly"! The kerning is irregular! This document raises more questions than it answers!
Newt Gingrich actually blamed Obama this morning for the delay in the release, and hinted that we should still harbor doubts about Obama's citizenship. "Why did it take so long?" Gingrich asked. "The whole thing is strange."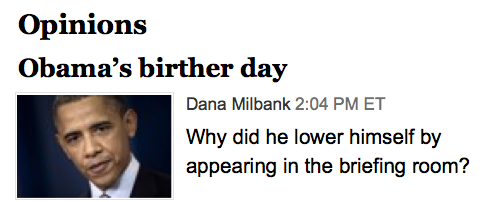 This was all a stunt of its own. Yesterday he was playing games on gas taxes and today it's the birth certificate. What's next — juggling knives?
We are well and truly fucked as a society. I continue to believe that brown people will save this country from the insanity of the white majority but I'm feeling less confident today than usual.