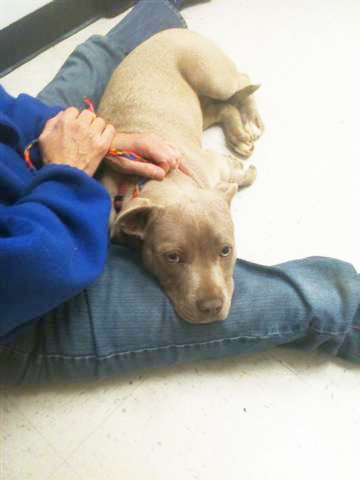 The good folks at Charlies Angels send along the following news:
Hi John,

Hope all is well with you and your Balloon Juice followers..

Lady Bassett who was able to have her surgery for huge tumor thanks to all the contributions from you and others is now living in Philadelphia, PA. We transported her to WAGS Rescue group and she was adopted almost immediately and now sleeps in bed with their young daughter. Thanks to all of you she now has the love and attention that she so deserves..She has come a long way since found in middle of road dragging that tumor on the ground..:)

Now, please meet Maggie..a young Blue Pittie who only weighs 32 lbs. She was picked up by Animal Control Officers due to call by citizen who thought she had been hit by a car and had crawled up under his porch. Charlie's Angels got her from shelter and took her to vet. She was not injured by a car but born with a severely deformed left front leg that she cannot use at all and her right front leg is also deformed but she can use it. The Control Officers were calling her Scooter because she "scoots" to get around. Vet reports that left leg will need to be amputated and that she will need a "cart" to support her and allow her to get around after amputation due to right leg not being strong enough to support all her weight. We have already had her vaccinated, spayed and she tested negative for heart worms.

I am asking if you can let your followers know about her and that we need donations for her medical care. It is estimated to cost about $1,500 total for surgery and cart that will have to be custom made for her.
If you are in a position to help, you can go here and donate via paypal, or send snail mail to:
CAAR
P.O. Box 824
Brevard, NC 28712
I'm in for $50. That could just as easily have been Rosie or Lily.
Also, don't forget that any item you purchase from the Balloon Juice store has all of the profits sent directly to the Charlie's Angels folks. Some great summer tee-shirts and all sorts of stuff in there.