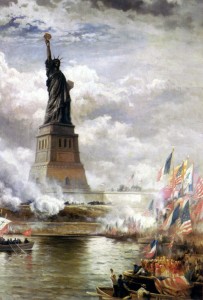 I adore plane travel.
I love the sheer improbability of nine hundred thousand pounds of steel, people and fuel flitting through the air like Nijinsky on a coke binge. I love the fact that there are beautiful women and handsome gay men whose sole function for eight hours is to bring Grammy more champagne. I love not having to elbow incontinent old people in the head in order to watch what I want on TV.
Most of all, I love the fact that I can have a nap and wake up in Amsterdam or Barcelona or Sydney or Rio de Janeiro. I've spent most of my life trying to travel to as many foreign places and meet as many foreign people as possible, even if I've had to hock my shoes to get there.
One of the other advantages of plane travel is that the enforced down-time waiting in airport terminals gives me a chance to browse around those corners of the internets I usually don't get to. For example, the other day, while I was at LaGuardia waiting for Gloria's plane to be refueled, I stumbled across an unusually coherent <a href="http://peggynoonan.com/">article by little Peggy Noonan</a>.
I'm not suggesting it is a great article. After all, when Peggy writes, you're usually just happy if the piece uses recognizable words and the smell of vodka doesn't filter all the way down through the printing process and transpire off the page. However, I thought her conclusion was interesting, if only because it looks like Peggy has managed to stumble in the gutter and land on her hands and knees next to half a truth:
<blockquote>The whole world is in the Hilton, channel-surfing. The whole world is on the train, in the airport, judging what it sees, and likely, in some serious ways, finding us wanting. And, being human, they may be judging us with a small, extra edge of harshness for judging them and looking down on them. We have work to do at home, on our culture and in our country.</blockquote>
My real problem with Peggy's conclusion is that the real situation is much worse than she thinks.
The world doesn't look at America and find it wanting. The world looks at America and worries what the hell it is up to now.
Now before anyone accuses me of being an America-hating Limey immigrant bitch, let me hasten to add that I love this country with all my heart. Any nation that produced bourbon whiskey, blues music, the cheeseburger and George Clooney's ass can't be all bad.
Further, many (perhaps even most) Americans are fine, generous, inventive, kind people.
I'm also not suggesting that the rest of the world isn't messed up as well. One look at the Italian Parliament or the Japanese film industry or the slums of Brazil or anything involving Steve and Bindi Irwin or the Wiggles would suggest that the rest of the world has enough of its own problems to be getting on with.
America is supposed to be the land of the free and the home of the brave, the refuge of the homeless and the tempest-tost, that more perfect union whose alabaster cities gleam undimmed by human tears.
And yet, most of the time what the outside world sees is a nation of bloodthirsty war-mongers and religious dogmatists who think the way to world peace is more guns and more war, that democracy can be imposed at the end of a Gatling gun, and that drilling for oil, bringing on Armageddon or the fact that the indigenous population wears their handkerchiefs on their heads are legitimate reasons for invasion.
They read their papers and they read about a nation that went to war to throw off the shackles of a hereditary monarchy and then spent the next 200 years replacing it with the most dysfunctional political system this side of Pyongyang, a hereditary argentocracy in which the electoral prospects of a fat multiply-bankrupt television star with a triple combover can be seriously discussed, rather than being relegated to the funny pages.
They wonder at a nation that has the best medical system in the world in which 90% of the population can't see a doctor without selling either a kidney or their oldest child into slavery – a nation that has the best education system in the world, and yet 72% of the population is so terminally incurious that it doesn't have a passport and couldn't find America on a map with a torch and a pointy red arrow marked "You are here".
They deal with fat tourists from Texas in walk socks and flip-flops who travel overseas merely so they can shout at the locals in English in order to be understood and get directions to the Hard Rock cafe, and thereby avoid being exposed to anything remotely foreign while in a foreign land.
They fear America as a country of cultural imperialists, racists, Jesus freaks and Amway salesmen who want to turn the entire world into a sanitized theme park of sexless talking mice, big-eyed virgins, plastic cheese and expensive time-limited parking.
In the family reunion of nations, America is the crazy aunty with halitosis and a moustache who bails you up in the corner and tells you off because you need to lose weight and stop smoking, while all the while scoffing all the vol-au-vents and bogarting the joint.
America is a great nation. Americans rightly think so. The rest of the world rightly thinks so.
The real problem is that when much of America looks at itself all it sees is a great nation.
The rest of the world looks at America and, however much they may envy or love its wealth and its celebrity and its power, they see a great nation that is often demonstrably, certifiably fucking insane.
Grammy either needs a drink or to stop reading the newspapers. Probably both.
[Image – Unveiling the Statue of Liberty – Edward Moran – from <a href="http://www.artrenewal.org/pages/artwork.php?artworkid=15295″>Artrenewal.org</a>] [Cross posted at <a href="http://sarahproudandtall.com/">Sarah, Proud and Tall</a>.]