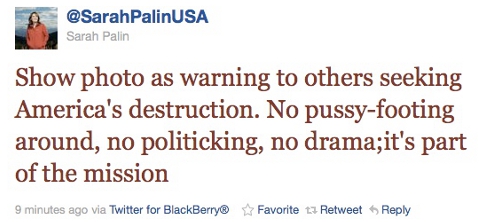 Somehow, sage advice like this isn't resonating:
Fifty-eight percent of registered voters surveyed by Quinnipiac University over the past week indicated they "would never vote" for Palin or Trump for president.

[…]Though 15 percent of respondents indicated they are enthusiastic about Palin, only 24 percent said they would consider voting for her. Trump received a 9 percent enthusiasm rating and a 26 percent rating on whether individuals would vote for him.
It's hard to come back from a near-landslide of "never".
Also, too: Speaking of polls, focusing on Obama's approval rating bounce after bin Laden's death is pretty narrow and shortsighted. Think about the debates, and how Obama can start a response or two with the line "When I gave the order for SEALs to go in to get bin Laden …". How could this snowbilly grifter, or her combover doppelganger, respond to that?