The Supreme Court of Brazil has recognized gay civil unions (although not "marriage") in deciding two lawsuits brought by the state government of Rio de Janeiro  and by the Ministério Público, the Brazilian body of independent public prosecutors.
In a 10-0 vote, with one abstention, the justices said gay couples deserve the same legal rights as heterosexual pairs when it comes to alimony, retirement benefits of a partner who dies, and inheritances, among other issues. The ruling, however, stopped short of legalising gay marriage. …. Brazil's ruling sets a judicial precedent that must be honoured by all public institutions, including notary publics [sic] where civil unions must be registered.
Oh, and the 11th justice apparently abstained because he had previously spoken in favor of same-sex unions when he was Attorney-General.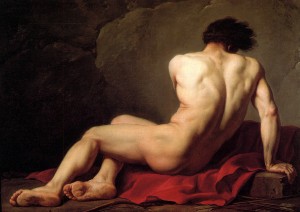 Of course, it's not all caipirinhas and tighty-whitey undies:
Among the dead, [there were] 140 gay men (54%), 110 transvestites (42%) and 10 lesbians (4%). Brazil confirms its position as the world champion of murders of homosexuals: in the United States, which has 100 million more people than our country, in 2010, 14 murders of transvestites were reported, while in Brazil, there were 110. The risk of a homosexual being murdered in Brazil is 785% higher than in the United States.
Given its huge religious population, long history of internal conflict and torrid political divisions, it's not surprising that it taken Brazil so long to catch up with the the Land of the Free and the Brave in granting its gay and lesbian citizens equal parity with all of its other citizens.
[Jacques-Louis David (1748-1825) –
Male Nude known as Patroclus
]
Edited for additional snarkiness.