Can't say I didn't feel the schadenfreude reading this:
Florida's governor, Rick Scott..took a verbal whacking from New York and New Jersey lawmakers who had gathered to announce the distribution of $2.2 billion in federal transportation money that was meant for Florida until Mr. Scott, a Republican, snubbed the Obama administration and its proposal to build a fast train line between Orlando and Tampa.

…

"If you want to award hundreds of millions of dollars for high-speed rail," said New York's senior senator, Charles E. Schumer, "you need not ask New York twice."

Another Democratic senator, Frank R. Lautenberg of New Jersey, joined Mr. Schumer in taking swipes at Mr. Scott. "A governor that rejects transportation money is penny-wise and pound-foolish," Mr. Lautenberg said.

Mr. Lautenberg also aimed a zinger at Chris Christie, the New Jersey governor, who canceled a project to build a rail tunnel under the Hudson River that would have received $3 billion in federal funds. "We learned something in New Jersey," he said. "We learned if you reject federal money, you gain nothing and you pay a high price for it."
That's the smell of stupid, folks.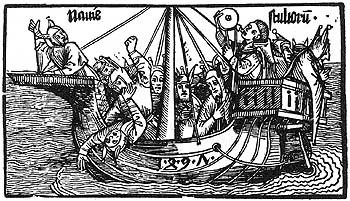 The killer lines in the piece, though, were these.  It seems that the money will allow Amtrak trains…
…to go as fast as 160 miles per hour along a stretch of tracks in central New Jersey.

If that happens, it would be a step toward President Obama's goal of establishing high-speed rail around the country.
Not bad, eh?  Except for this:
True high-speed rail systems that have been built from scratch in other countries, like China, have top speeds as high as 220 miles per hour.
American exceptionalism in action: we can build a rail system to match that of Japan in the 1960s.
__
Image: Albrecht Dürer, Ship of Fools, 1494