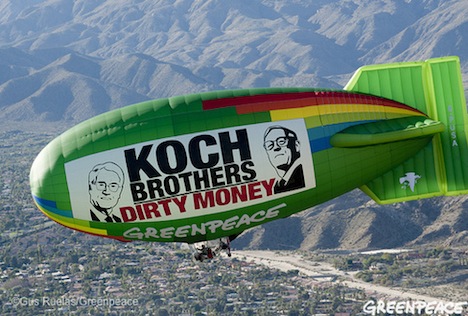 It has been a busy couple of weeks for the Koch brothers. Whether they are whining about the New Yorker attempting to have them punished for writing about them, bitching about Obama nailing bin Laden, or their various day to day nefarious activities, they have had their hands full and their mouthpieces have been busy defending their honor. Here is something else they no longer need to worry about:
A lawsuit against a group of anonymous environmentalists who created a satirical press release claiming that Koch Industries would help fight climate change was dismissed Monday by U.S. District Court Judge Dale A. Kimball.

The anonymous environmentalists known as Youth for Climate Truth were defended by the Public Citizen Litigation Group, who said subpoenas associated with the lawsuit violated the First Amendment rights to anonymous speech.

"We're gratified that the court affirmed our clients' First Amendment right to engage in anonymous political speech and rejected Koch's baseless legal theories," said Deepak Gupta, one of the Public Citizen attorneys defending the activists. "This lawsuit was nothing but a well-financed attempt by Koch to bully its political opponents into submission. The court was right to stop this lawsuit in its tracks."

In stark contrast to the viewpoints usually expressed by either of the Koch brothers, the fake press release announced that the company would "restructure its support for organizations that undertake climate change research and advocacy" and stop funding groups "whose positions on climate change could jeopardize America's continued global competitiveness."

The press release was emailed to a number of news organizations and included a link to www.kochinc.com, which looked similar to the company's actual website.

Koch Industries brought the lawsuit, alleging that the fake press release was a trademark infringement, cybersquatting, unfair competition and a violation of the Computer Fraud and Abuse Act. The company sought to identify the activists by sending subpoenas to Bluehost and FastDomain, which hosted and registered the website.
Sorry, libertarian wankers. The rest of us still have the constitutional protections that you Galtian douchebags pretend to cherish.
This was little more than an attempt to out the pranksters so the usual suspects could do their countertop inspections, and the court told them to gtfo.