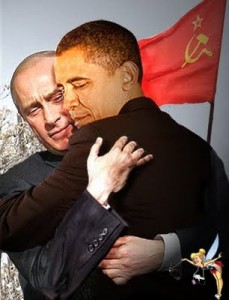 Life is so unfair.
I write a compelling first-person report about my experience with Barack Obama and his lizardly plans to take over the world, and people think I'm joking.
Janet Porter gets huffed up on spray paint one weekend back in early 2009 and claims that Obama is a communist plant plucked directly from The Manchurian Candidate or Salt, and she still gets to whisper sweet nothings in Mike Huckabee's ear.
Brace yourself for what I'm about to say next. Last fall, prior to the presidential election, a friend of mine, Dr. Wiley Drake, former second vice president for the Southern Baptist Convention, sent me an e-mail on which I didn't report. It just seemed too extreme. It was from a software developer he met named Tom Fife who told of how he first heard of the name "Barack." I can't prove whether it's true or not, but in light of all that is happening, it just doesn't seem that far-fetched anymore.
Of course the difference may be that I'm a fictional 92 year old with impulse control issues and an obsession with bodily functions, whereas Janet Porter is as mad as a fucking meat axe.
From Fife's original post on American Free Press:
"What if I told you that you will have a black president very soon and he will be a Communist?"

The out-of-the-blue remark was met by our stares. She continued, "Well, you will; and he will be a Communist."

It was then that the husband unsuccessfully tried to change the subject; but she was on a roll and would have nothing of it. One of us asked, "It sounds like you know something we don't know."

"Yes, it is true. This is not some idle talk. He is already born, and he is educated and being groomed to be president right now. You will be impressed to know that he has gone to the best schools of presidents. He is what you call 'Ivy League.' You don't believe me, but he is real and I even know his name. His name is Barack. His mother is white and American and his father is black from Africa. That's right, a chocolate baby! And he's going to be your president."

She became more and more smug as she presented her stream of detailed knowledge and predictions so matter-of-factly – as though all were foregone conclusions. "It's all been thought out. His father is not an American black, so he won't have that social slave stigma. He is intelligent and he is half white and has been raised from the cradle to be an atheist and a Communist. He's gone to the finest schools. He is being guided every step of the way and he will be irresistible to America."
H/t: Tim Murphy at Mother Jones via Ed Brayton at Scienceblogs via gocart mozart at Sadly No!