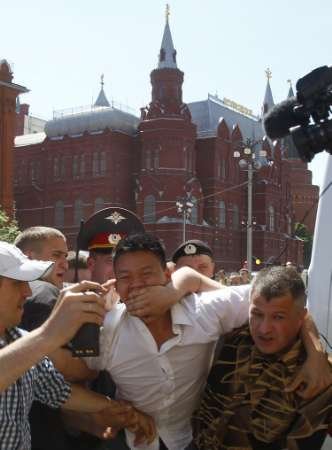 Amid shouts from gangs of men and threats of beatings, police officers arrested more than a dozen gay rights activists, including a few foreigners, who attempted to hold a rally in Moscow on Saturday.

Among the arrested were Dan Choi, an American Iraq war veteran and gay rights campaigner, and Andy Thayer, a Chicago-based activist, who were in Moscow to support the rally. They were later released.
…
The Moscow authorities, who rarely tolerate antigovernment demonstrations, have vowed never to allow Russia's small community of gay rights activists to hold a rally in the capital, though similar events have been permitted in St. Petersburg, Russia's second-largest city.

Last year, the European Court of Human Rights fined Russia more than $40,000 for its refusal to allow gay rights supporters to hold peaceful demonstrations in Moscow. This year's rally was banned, nevertheless.
The fight for gay rights in the Western world has often begun at the end of a police baton.
Political oppression and the toleration of brutality will eventually be overcome, but I suspect there will be a lot more photos from Russia like the one above before that happens.
For those of us who take for granted the rights we have to sleep with whoever we want and profess our love in a public forum, this photo bears witness to the enforced silence and fear that others around the world suffer every day simply because they are gay.
Photo: Reuters/Mikhail Voskresensky.
Text added after initial posting. My apologies for just posting the picture without explanation. I'm getting absent minded – Sarah.