Goldman Sachs Group Inc. (GS), the fifth- biggest U.S. bank by assets, received a subpoena from the Manhattan District Attorney's office seeking information on the firm's activities leading into the credit crisis, according to two people familiar with the matter.

"We don't comment on specific regulatory or legal issues, but subpoenas are a normal part of the information request process and, of course, when we receive them we cooperate fully," said David Wells, a company spokesman.
It warms the cockles of my uncharitable heart that Goldman is taking at least a trivial hit where it hurts them next-to-most:
Goldman Sachs dropped 2.3 percent to $133.04 in New York Stock Exchange composite trading at 9:57 a.m., after falling as much as 3.4 percent following news of the subpoena.

The stock has slid 17 percent since the Senate subcommittee, led by Michigan Democrat Carl M. Levin, used the firm as a case study in a 640-page report on its findings released in April.
Alas, though, I haz a sad over this:
A subpoena is a request for information and doesn't mean the company is a target of a criminal investigation. Analysts including Sanford C. Bernstein's Brad Hintz have said they don't expect the firm to be criminally prosecuted.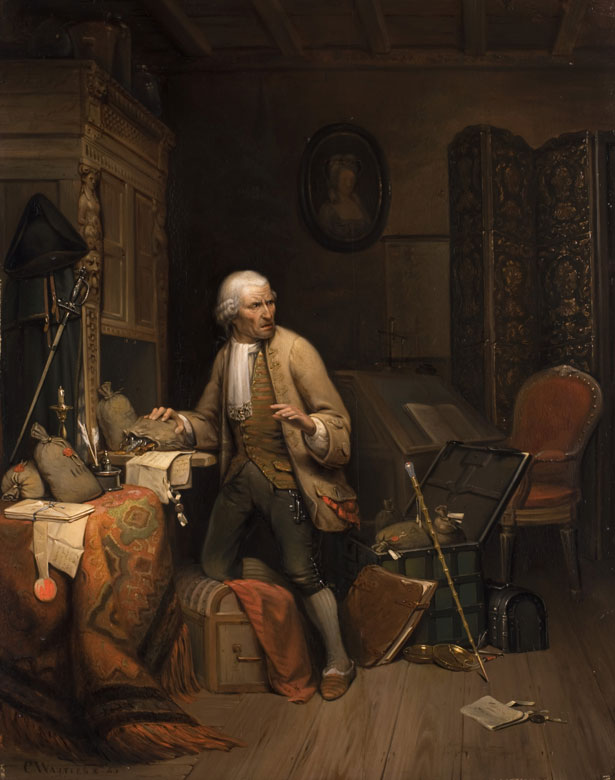 If they'll nail individuals within the firm — enough of them — I'd be satisfied.  I live in hope.
Image:  Charles Wauters Der beim Diebstahl ertappte Hausdiener, (very loosely — the thieving servant, caught in the act), 1845