What does everyone have planned for the evening? Soon as I hop out of the shower, I'm going to grill and open a bottle of wine (Nobilo Sav. Blanc) and I think the Ills are coming over. Should be fun.
And since I have been accused of slacking on the Tunch photos, there was a sighting as he migrated with the sun from the east side of the house to the west side of the house. Here is the majestic beast in the wild, luxuriating on the cedar chest in the bedroom: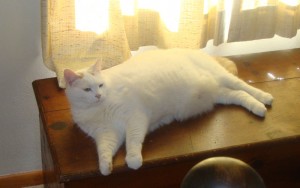 I would pay to have an hour long special like the BBC's Earth chronicling a day in the life of Tunch, complete with the voiceovers. Although it would probably be the most boring hour in the history of tv.