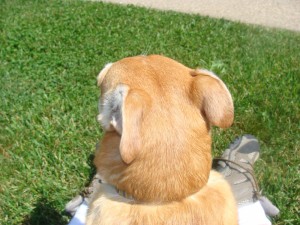 It's just a fabulous day here- 70 degrees with no humidity, the sun is up, the sky is blue, it's beautiful and so are you there is a nice breeze and I am sitting on the back porch getting some work done. I have no desire to talk about politics and think I might go do some weeding and pruning and general maintenance on the garden.
I was thinking, though, as Lily sits beside me, that the categories the AKC has for animals is kind of insulting. They have the working dogs, and the toy dogs, and all the others, and that sort of implies the working dogs do something while the toy dogs don't. I've come to grips with the fact that Lily is a chihuahua/terrier/something mix, and despite thinking my whole life I wanted a lab or a retriever or something like that, it turns out what I really wanted was a Lily. My brother got the wire-haired pointing griffon because he wanted a dog to train and to take to obedience school and to teach tricks and go with hikes, so he thought that "working dog" was best for him. It turns out that what I wanted was a Lily.
But for some reason, it irks me that she is not considered a working dog, because she has a harder job than Boghan or resident evil Rosie or any of the other dogs. They just have menial tasks, they do them, they get a treat. Lily, on the other hand, spends the entire day keenly observing my mood, always by my side, and always watching me to make sure I don't need a dog in my lap or a lick to the face. When we walk, Rosie just lets her primal instincts go and spazzes all over the place. Lily walks by my side, constantly looking up to me for guidance and confirmation. It's not easy sitting on my lap all day or under my feet or curled up next to me in bed yet never being in the way, but Lily does it. That is hard work, if you ask me.
I'm rambling. And yes I know we are co-dependent, but it is a nice day and I am in a good mood and just thought I would say how much I love my little dog. I'm so glad I found her.