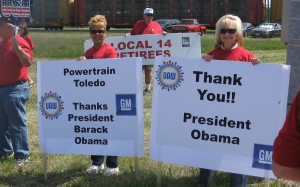 I went out to Toledo yesterday to see the people who came out to see the President.
TOLEDO, Ohio — If the 2012 election is about the economy, as most people think, then President Obama's visit on Friday to this struggling manufacturing city on the Ohio-Michigan border captured as well as any day could the complicated campaign he is likely to face — playing both offense and defense, taking credit and deflecting blame."Thanks for saving my job," one young man told him at shift change. On the assembly line a woman spun around, to show the words "Thank you" on her T-shirt's back.
I intended to wander around near the plant and see what I could see there, but I met up with the nice people pictured and instead took part in a "visibility event". This gathering involved standing with members of the UAW at an intersection near the action and holding signs and smiling a lot. I met members of this group during the SB 5 protests. I've been meaning to pal around with these loathed and feared community organizers anyway and a street corner welcoming of Obama sounded like a good idea. The objective of gatherings like this one is to be seen and garner local press attention, and we were successful in both.
The New York Times piece on the President's visit is good. Just straight reporting of events, with Friday's poor job numbers as context, which absolutely belongs in there. Unfortunately, I listened to CNN's intro to the facts of the visit in the car on the way in and immediately went into fight mode. The President was visiting Toledo to "brag"; US car companies can't "stand on their own two feet". I had to turn it off, or I was going to go into adrenalin shock
I'm an advocate. I recognize the language of advocacy. Word choice as a tool is not new or mysterious or subtle to me. That tool is not new, I would assume, to a news channel. It sticks out. Can they not hear themselves? I heard these words CNN chose and immediately felt that the CNN newsreader was on the other side. If the speaker is choosing to use words in the intro to a piece that impart a view before we get to facts, I am inevitably going to conclude that the speaker, too, is an advocate, but, unlike me, they've chosen not to reveal that to listeners or readers.
One final thing. I was asked to take pictures and video at Netroots Nation. I am not the person in any group who takes pictures, because I'm impatient with the whole process. I'm the whiner who sighs and won't stand still and asks if you're through taking my picture yet, 5 seconds in. I used this event as sort of a test run to determine if people dislike having their picture taken as much as I dislike having my picture taken. The answer is "no, they don't". I asked first, and they were more than happy to have their pictures taken. We had a lot of fun with it.