Update: Title bowdlerized to ease access for some folks for whom the original word threw up cyber road blocks.
Update 2: Phil Plait (aka The Bad Astronomer) uploaded this unspeakably wonderful bit of solar S*&*M — or at least M for our collective delectation:
Update 2.5: Just got a note from someone who came over here from Daily Kos reporting that his Norton suite reported an attempt to install an exploit kit on viewing the solar flare below.  I can't get that same message — anyone else having a problem?  Let me know.  Let this constitute a warning — and one more report of an issue here and I'll kill this and work back up the chain.  Thanks all.
Update 2.6: On second thought, with an excess of caution, and after reading this from the June 11 Times, I've reloaded the embed information from Youtube.  Alternatively if you want to check it out on the home Youtube site, click through here.
<div align="center"><iframe width="425″ height="349″ src="http://www.youtube.com/embed/Hyi4hjG6kDM" frameborder="0″ allowfullscreen></iframe></div>
Also note the fine pic links in the comment thread.
_______
Have a look at this latest bit of cosmic eye candy to cross my desk: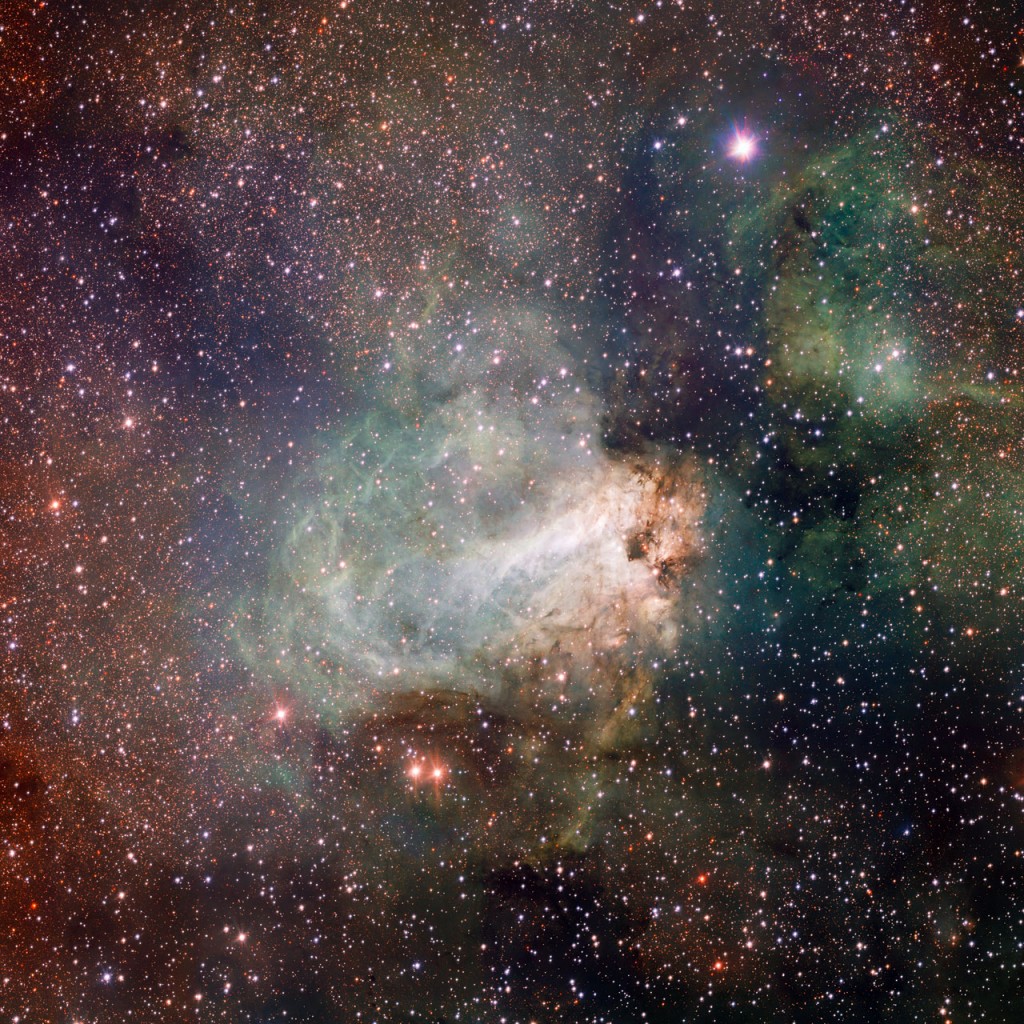 What with all the wretchedness that comes from too deep an immersion in the craptastic nature of our politics these days, it is sometimes necessary (for me) just to stop, look up, and enjoy the view.
This is an image of the star-forming region Messier 17, alias the Omega Nebula or the Swan Nebula.  It is the first released pic from data taken by the European Southern Observatory's new survey telescope, the VST.  It's not large, as modern telescopes go — 2.6 meters in diameter, or roughly half the diameter of the venerable Palomar 200 inch Hale Telescope.  But it's been designed as an instrument to make surveys of significant portions of the sky with very high resolution and optical/image quality.  The 'scope boasts active optics, and delivers its photons to what sounds like the coolest instamatic ever made…with initial results as you see above.
So — enjoy…and chat away.