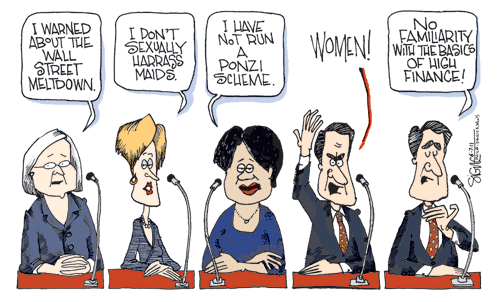 (Signe Wilkinson via Gocomics.com)
When Thomas Friedman, America's Most Conventional Dispenser of This Week's Conventional Wisdom(tm) , sours on the business of unfettered consumption and announces bitterly that "The Earth Is Full", is it really so surprising that more than a thousand sensible, middle-class Americans would volunteer for a "One-way ticket to Mars "?
… It was not proposed as a suicide mission, although the chances of a long life on Mars probably aren't great. Rather, it was pitched as what would potentially be the greatest scientific adventure and exploration of all time.
__
The idea was floated by two scientists, Paul Davies of Arizona State University and Dirk Schulze-Makuch of the University of Washington, in an article in the Journal of Cosmology. One of the journal's editors, Ron Becker, said that as the hundreds of e-mails flowed in from prospective Mars explorers, the initial reaction of both researchers and journal staff was to dismiss them as not serious. But that changed as it became apparent that many of the correspondents were quite sincere…
__
The idea, which is clearly not what NASA managers have in mind for Mars exploration, has now led to the release of "A One Way Mission to Mars: Colonizing the Red Planet," a compilation of articles from the Journal of Cosmology, plus some additions from scientists with the Mars Society and others.
__
Among the articles in the book are "The Search for Life on Mars," "Medical Care for a Martian Transit Mission and Extended Stay on the Martian Surface" and "Sex on Mars: Pregnancy, Fetal Development and Sex in Outer Space." The authors include dozens of NASA researchers, some former astronauts and some scientists and advocates who have pushed for decades (with no success) for a human mission to Mars….
__
Schulze-Makuch said the idea would be to start a colony on Mars, not simply to send astronauts there and abandon them. He imagines them living in the shelter of a lava tube or some habitat they take with them, and imagines that a stream of others would follow. Robotic exploration has shown there is substantial water ice below the Martian surface, so many of the ingredients for survival are present…
To boldly go! …
… And in a far more immediate timeframe, Book Chat reminder: I will put up the first post on When Everything Changed this evening, at 8pm EDT. What else have people got on the agenda for a too-soon-summer midweek?