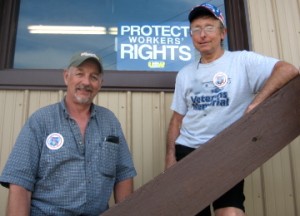 We had a petition drive here yesterday to put a repeal of Ohio's SB 5 on the ballot in November.
The gentlemen pictured ran the public event, which was held at the Steelworkers meeting hall.
Here's We Are Ohio on what we're doing:
Republican Legislators have passed Senate Bill 5 and Governor Kasich has signed the bill effectively eliminating collective bargaining rights. A coalition composed of working families and concerned Ohioans have already begun a referendum process which will prevent this legislation from taking effect and place the issue on the November 2011 ballot for a vote of the citizens of Ohio. Here is some information on the referendum process:

• 231,149 – Signatures needed to place a referendum of the law on the ballot.
• 44 – Minimum number of different counties where the petition signatures need to be collected.
• June 30 2011 – Final date for signatures if SB 5 is signed and filed with the Secretary of State by April 6.
• July 20, 2011 – Final day by which the Secretary of State must determine if there are enough valid signatures to place the referendum on the ballot.
• 91 – If no referendum petition is filed, SB 5 goes into effect 91 days after it was signed and filed with the SOS. If a referendum is filed, the law does not go into effect until and unless Ohioans vote to allow the bill to become law.
If you're a registered Ohio voter and would like to sign a petition, you may still do so. Either follow the link and search for your city or county, or email me, and I'll try to find you a petition that's still out there to sign.