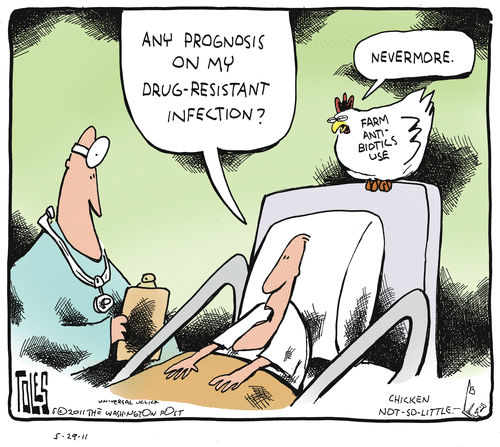 If we can stop talking about virtual weiners for a while, how about some news on the stuff that actually goes in your mouth? Because I admire professional insouciance, I've been saving this article from the NYTimes "Business Day" section:
Pfizer Suspends Sales of Chicken Drug With Arsenic
__
WASHINGTON — Farmers have for decades fed chickens an arsenic-containing drug that promotes growth, but after a government study found trace amounts of this poisonous carcinogen in chickens, its maker will suspend its sales.
__
Officials at the Food and Drug Administration said the amounts found were so low that chickens treated with the drug, called 3-Nitro, do not pose a serious health risk and will continue to be sold. Perdue and organic chicken producers do not use the drug…
Business section, not food or health. What's important is the possible effect on stock prices of a major pharmaceutical firm, not what mere consumers are putting in their mouths.
Pfizer, which makes 3-Nitro, also known as roxarsone, will suspend the drug's sales in 30 days, giving producers time to find alternatives. The drug, first approved in 1944, kills intestinal parasites, promotes growth and makes meat look pinker. And since 3-Nitro contains organic arsenic, which is far less toxic than its inorganic counterpart, producers assumed that it would have no effect on people who ate the animals.
__
But there has been growing evidence that organic arsenic can change into its more toxic cousin. So F.D.A. researchers developed a way to measure inorganic arsenic in meat. They got 100 chickens, fed roxarsone to about half of them and measured levels of inorganic arsenic in their livers. Chickens fed roxarsone had consistently higher levels of inorganic arsenic, a known carcinogen…
We didn't have to worry as long as we thought we were only ingesting organic arsenic!
Each year, the United States produces $45 billion worth of broiler chickens, the kind used for meat — about 37 billion pounds in 2010, according to the Agriculture Department. That equals about 80 pounds a year for each American, according to the National Chicken Council, which represents major companies like Perdue and Tyson. Georgia, Arkansas and Alabama are the biggest producers.
__
Richard Lobb, a spokesman for the chicken council, said 3-Nitro was used widely "but certainly not universally" by the industry. Mr. Lobb said that questions about roxarsone's safety had been raised in the past but "we've always been able to show that there's really no reason to be concerned about human health."…
And who better to trust on the issue of chicken safety than the people whose job is to sell us more chicken? Look, they voluntarily "suspended" sales — or will, in a month or so…
Environmentalists have long been concerned that the waste from chickens treated with roxarsone, when used as fertilizer on crops, causes arsenic to leach into water supplies and estuaries. Even cattle are exposed, since chicken litter is sometimes included in feed…
Just in case you thought a burger might be a safer choice. Yep, they feed chicken manure to cows. When I took a dairy-science course thirty years ago, one of the standard elements of the nutrition-calculation equations was a commercial supplement made by mixing poultry-barn waste with ground-up telephone directories (urea plus fiber), but I'm sure that's been supplanted by now… there probably aren't enough phone directories printed to make it economical these days. Don't look so nauseated, just think of it as recycling, ya DFH!
Of course, you vegans can't afford to laugh at us carnivores right now. I was a little surprised that the European (drug resistant) E. coli O104 outbreak that has killed 31 people (so far) and hospitalized a couple thousand didn't get more attention in the American press…. if only because the European Commission agreed to spend 200 million euros compensating farmers for "up to half" of the cost of hundreds of tons of produce (cucumbers, lettuce, tomatoes) dumped from the supply chain or left to rot in the fields. Not to mention the slanging matches between the Germans, Dutch, and Spaniards about whose filthy shite-encrusted veggies were to blame…
It was the sprouts, of course. I'm from the generation of 1970s-era DFHs who decided, after one too many "mild" food-poisoning incidents, that eating any vegetable product nurtured in petri dishes and served raw was bound to be a crap shoot — if I want to add a peppery crunch to my salad, I look for the croutons. If you're more stubborn about your dietary habits, Matthew E. Kahn (via RBC) has an interesting post on Risk Tradeoffs and Bean Sprouts. As he says: "Tradeoffs lurk".