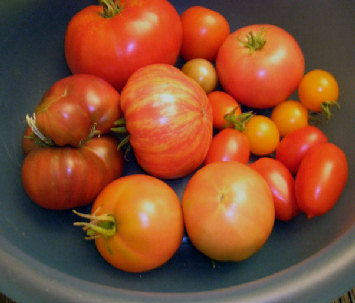 Commentor Jharp suggested, quite reasonably, that if we're going to talk about our gardens every Thursday evening, we could also include pictures. He even sent along the first photo, of his pepper patch, for this week's post.
So… if you have garden pics you want to share… email me a .jpeg (click on my name near the top of the right-hand column) and I'll include them in my next 'Thursday Garden Chat' post. Any week I get more than five or six new photos, I'll put up an extra 'Sunday Garden Chat' post as well. Consider yourselves challenged!
(Top photo is some of the random heirlooms from my last summer's garden, which I believe has appeared on BJ before, but I'm not much of a photographer.)
Apart from that, what's on the agenda for a (rainy, here in New England) summer Sunday?