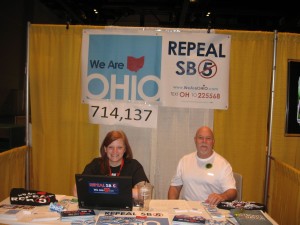 Pictured are the We Are Ohio folks at Netroots, with the final signature tally behind their heads there. 714,000.
The goal was 500k, so that went well. Now the battle over ballot language begins, and then, of course, we have to win the repeal vote. Thanks to all the BJ readers and commenters who signed or circulated a petition.
Jordyn Rush (the woman on the left) is the deputy director of operations for We Are Ohio and she approached me yesterday to thank Balloon Juice for promoting the cause. She's smiling today.
One other quick observation: John Cole is going to have to appear publicly at a political event, or post a picture, or throw up a line-drawing portrait, or something.
Every single Balloon Juice reader I have spoken to asks, first thing: "Where is John Cole? Is he here?"