Really worthwhile (but sparsely attended) panel on manufacturing yesterday. Left to right, the people pictured are Scott Paul, Alliance for American Manufacturing; Dave Johnson, Campaign for America's Future; Beri Fox, a manufacturer; Rep. Jim McGovern (D, MA) and Jared Bernstein, who was with the Obama Administration but is now with the Center on Budget and Policy Priorities.
Bernstein began by putting manufacturing into perspective. He thinks the sector is under-appreciated in the US. Said compensation is higher in manufacturing than in service industries, especially considering 70% of the US workforce are not college-educated. He went on to say that manufacturing is a "jobs multiplier" in a way that service industries aren't, with manufacturing creating 4 collateral jobs for every new manufacturing job, and that 70% of R and D comes out of manufacturing. This is why he believes that an "innovation agenda" is a "manufacturing agenda". Slides and numbers here. (pdf)
McGovern said for a long time in DC all he heard was "tech, tech, tech" but he thinks this singular tech focus ignores reality in places like Massachusetts, where there are 7,750 manufacturers. They are small businesses: 69% of those companies have 20 or fewer employees,. McGovern says it's a myth that US manufacturing is composed of giant corporations.
Which brings me to Beri Fox, who runs Marble King in West Virginia. Marble King is her family business. They make marbles. She said that ten years ago 165,000 West Virginians were employed in manufacturing and now that is down to 50,000. She said she is not a protectionist, and that Marble King sells in 17 countries, but she cannot compete if countries like China subsidize and protect their manufacturing base and the US does not.
Fox was on Colbert's show, and she was very emotional talking about the response to her appearance on the show. She got 11,000 emails from people telling her they supported US manufacturing and agreed with her on the need for government intervention, if only to re-negotiate bad trade deals. Colbert did the initial interview and then a follow-up, where he mentioned the 11,000 emails, and said that he had saved American manufacturing. Fox was so grateful that Colbert brought attention to the issue and gave her a forum to talk about it.
There is a company that once manufactured toys where I live. All of the toy production has been out-sourced to China, although the white-collar jobs remain in Ohio.
Local people say a machinist of German descent founded and built the company and his children went on to become engineers and run the company and then their children went to business school, and outsourced all the jobs.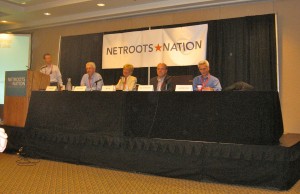 That story always sounded inevitable to me, just an unstoppable evolutionary process, but Beri Fox says stories like that are the result of deliberate policy decisions made by nations and leaders, and are not inevitable at all.