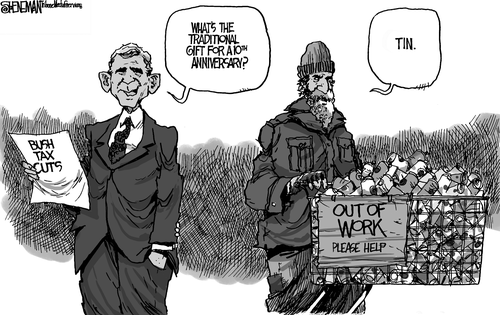 (Drew Sheneman via Gocomics.com)
__
The NYTimes explains how "For Want of a Word, Arizona's Jobless Lose Checks":
… That last extension of unemployment benefits — typically received in weeks 80 through 99 of unemployment — is paid for entirely with federal money and does not affect state budgets. But because of ideological opposition and other legislative priorities, Arizona and a handful of other states, like Wisconsin and Alaska, have not made the one-word change necessary to keep the program going.
__
Right now about 640,000 jobless Americans are receiving this last tier of benefits, according to the National Employment Law Project. The money, appropriated in the 2009 federal stimulus package, was initially intended for states with jobless rates higher than they were two years earlier. Since the recovery has been much slower than predicted, though, Congress decided last December to allow states to continue receiving the money if their unemployment rates were higher than they were three years earlier. States simply needed to change "two" to "three" in the relevant state law.
__
Some economists say that cutting off the long-term unemployed from extended federal assistance could backfire by putting further strain on state economies instead. Indeed, most states were quick to make the one-word change, counting on the federal money not only to support ailing families but also to serve as a strong stimulus (jobless benefits are normally spent more quickly than, say, tax refunds). Nearly every state — Arizona included — had opted into the extended benefits program when it was introduced.
__
But now Arizona is reluctant. When Gov. Jan Brewer called a special session to address the issue last week, legislators didn't introduce a bill. Republican legislators said they would consider the change only if it were packaged with other provisions, including tax cuts and stricter rules for receiving unemployment benefits in the first place….
__

Five states — Arkansas, Louisiana, Mississippi, Montana and Utah — never accepted these federally funded benefits. Of those that did, some fought for months over whether to extend the program before finally acting as the deadline approached, including Florida, Pennsylvania and Nevada just this week. In North Carolina, the governor issued an executive order forcing the change after a long standoff with legislators.
__
Besides Arizona, two other states have not yet made the one-word change required to continue receiving the money. In Wisconsin, for example, the advisory council that refers bills on unemployment insurance to the state legislature has not even taken up the issue. The council comprises representatives from business and labor; the labor side has been too busy fighting back attacks on public unions…
Seems like every single move Republican legislators make ties back to another facet of their anti-American ideology. Speaking of religion run amok — it's come to the point where they're openly sacrificing their unfortunate constituents to the golden idol of the Invisible Hand, pointing forward to the Orwellian future with its middle digit.