… but if you live in New York state and have not called your senator, you are missing the opportunity to make Maggie Gallagher cry, scream and throw things.
Gov. Andrew Cuomo continues to meet with key GOP senators, including Sens. Steve Saland and Andrew Lanza – apparently the most likely to change their vote – and Sen. Kemp Hannon, who is a "no" vote but who has been advising the Republican majority on legal issues relating to religious exemptions from the proposed law.
Cuomo released the following statement:
Our state is closer than ever before to achieving marriage equality for all New Yorkers. Today, you can help make it happen.

Last week, the state Assembly voted to pass marriage equality in New York, affirming their commitment to fairness and equal rights for same-sex couples. Now, it is up to the state Senate to do the same. With Albany's legislative session coming to a close this week, the time for progress is now.

Contact your state Senator today and urge them to vote yes on marriage equality. With this historic legislation, we can ensure that same-sex couples in New York are finally given the rights and protections they deserve.
If you are in the districts of the following senators, please call and briefly and politely urge your support for the proposed law.
Senate Majority Leader Dean Skelos has the power to bring the bill up for a vote – 518-455-3171
Republican senators James Alesi of Monroe County – 518 – 455-2015 and Roy McDonald of Saratoga County – 518 – 455-2381 have already announced their support for the bill, and should be told they are doing the right thing.
The staffers of the following Republican senators may be happy to hear a quiet and polite voice in support after all the screeching by the wingnuts: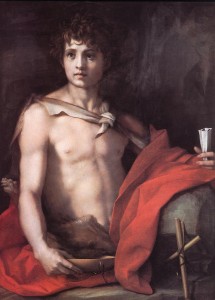 * Stephen Saland of Poughkeepsie – 518-455-2411
* Andrew Lanza of Staten Island – 518-455-3215
* Mark Grisanti of Buffalo – 518-455-3240
* Greg Ball of Patterson – 518-455-3111
* Kemp Hannon of Garden City – 518-455-2200
We can't ruin Maggie's year without you.
[Image – St. John the Baptist – Andrea del Sarto (1486-1530)]