This is where you all say Happy Birthday to me. I'm 41, a year older, but no wiser. I made some more sun-dried tomato fettuccine to celebrate: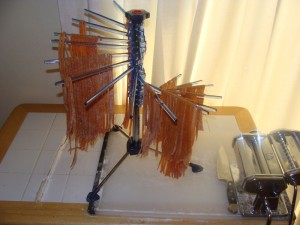 I have to admit, I'm getting pretty good at it. I'm to the point I can make enough pasta for at least 4-5 meals in under 20 mins. I'll just freeze the rest in individual baggies and use it when I want.
Although as much as I excited about the pasta dinner, I'm really just excited about the mint chocolate ice cream I'm having for dessert.