From an AP story about President Obama's poll numbers:
The erosion of approval is primarily among women. Last month, 57 percent said they felt he deserved re-election, a figure that dipped to 48 percent this month. The decline came almost entirely among white women, just 37 percent of whom say Obama deserves re-election in the new poll.
AP's headline for the story:
AP poll: Economic worries pose new snags for Obama
Headline for a repost of the story at Fox Nation: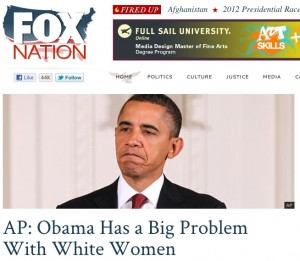 You don't need to be a dog to hear that whistle.