Not much blogging to come (will anyone be able to tell the difference?–ed.) this week, as I'm writing this from Doha, Qatar, where the biennial World Conference of Science Journalists is about to begin.
But as my body adjusts to the eight hour time difference, I chanced across this piece in The New York Times, which captures in the story of one small household appliance why American Exceptionalism may kill us all yet:
One high-definition DVR and one high-definition cable box use an average of 446 kilowatt hours a year, about 10 percent more than a 21-cubic-foot energy-efficient refrigerator, a recent study found.

These set-top boxes are energy hogs mostly because their drives, tuners and other components are generally running full tilt, or nearly so, 24 hours a day, even when not in active use. The recent study, by the Natural Resources Defense Council, concluded that the boxes consumed $3 billion in electricity per year in the United States — and that 66 percent of that power is wasted when no one is watching and shows are not being recorded. That is more power than the state of Maryland uses over 12 months.
That set-up:  the HD box and recorder, can add ten bucks or more per month to a household electricity bill, but the drain isn't obvious, because the damn things are always on.
__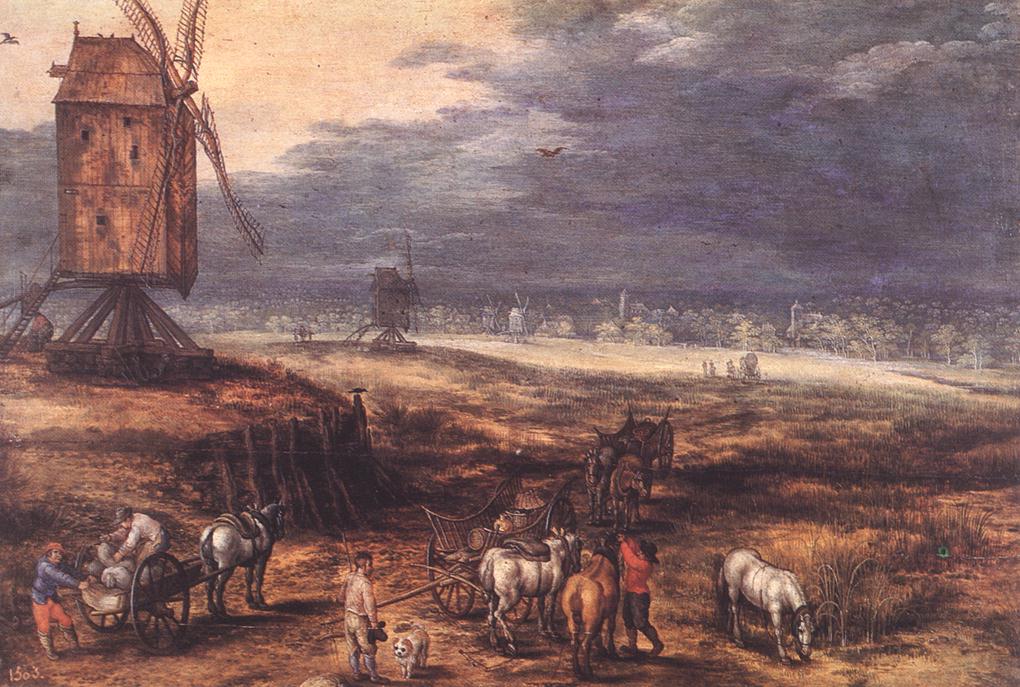 It was said of Pythagoras that he was the only man who could hear the music of the spheres; the rest of us were so accustomed to it, having been cradled in such harmony from womb to grave…and so it is with that 60 cycle hum, or its metaphoric equivalent.  We can't monitor that whose absence we've never known.
What's truly galling, though, is that there is no technical reason either to spend that money, or to burn the fuel — much of it coal — to make the power required:
The perpetually "powered on" state is largely a function of design and programming choices made by electronics companies and cable and Internet providers, which are related to the way cable networks function in the United States. Fixes exist, but they are not currently being mandated or deployed in the United States, critics say.
Not our fault, says Big Cable:
"The issue of having more efficient equipment is of interest to us," said Justin Venech, a spokesman for Time Warner Cable. But, he added, "when we purchase the equipment, functionality and cost are the primary considerations."
Which is to say the old brush off.  You know, "You've got a problem, which means I've got a problem. You."*
Except, you know, reality:
But energy efficiency experts say that technical fixes could eliminate or minimize the waiting time and inconvenience, some at little expense. Low-energy European systems reboot from deep sleep in one to two minutes.

Alan Meier, a scientist at Lawrence Berkeley National Laboratory, said of the industry in the United States, "I don't want to use the word 'lazy,' but they have had different priorities, and saving energy is not one of them."
It's hard to deny that charge, given this:
But as of Sept. 1, typical electricity consumption of Energy Star qualified products would drop to 97 kilowatt hours a year from an average of 138; and then by the middle of 2013, they must drop again to 29 kilowatt hours a year. Companies have fought the placement of the "Energy Star" seal on products and the new ambitious requirements, which may still be modified before enacted.

Mr. Wilson recalled that when he was on the California Energy Commission, he asked box makers why the hard drives were on all the time, using so much power. The answer: "Nobody asked us to use less."
But of course, it isn't just bad software and slothful, monopolist oligolopolist** greedoid big Cable that's to blame.***  There is a pattern of trading energy efficiency — conservation — for other pleasures.  The internal combustion engine of 2011 is a vastly more efficient machine that that of the 1973 oil crisis — but the power numbers for just about every car have shot up relative to comparable categories of automobile from thirty and forty years ago, wiping out much of the efficiency gain.
Here, we like having zero time-lag when we wish to couch-potato.   While we enjoy the latest episode of whatever, we are heading for real trouble with our energy sector.  Global climate change is some ways — well, not the least of it — but the effect that we'll notice second or third, well after we're wondering why it costs so much to live like an American.
There is a response, of course.  We could try real conservation — actually building energy efficient structures and tools and transportation systems, which, if implemented — with tech that exists right now — would represent a meaningful step towards an energy demand that an alternative energy mix (that would for decades + still include stuff we burn) could plausibly meet.  It would indeed mean changes in habits and cultural practices — and those are very hard to achieve, I know.  But consider the alternative.
If we don't, then when the rest of the world — and our kids — ask us what the hell  happened, we'll have to tell them we were too anxious to start watching Survivor to stop and think.
*H/t science writer Jon Cohen, for reminding me of that old gem.
**There are, after all, now two or three-ish cable sources in my 'hood, + satellite.  Pricing policies suggest oligopoly, not monopoly.  Not much difference from this consumer's point of view, but still, worth correction.
***Meanwhile, this article, plus the pleasures of Netflix streaming, are leading me to think about copying some friends and simply dump cable in favor of an HD antenna for over-the-air broadcasts (NFL), and broadband internet for everything else.
Image:  Jan Breughel the Elder, Landscape with Windmills, 1607