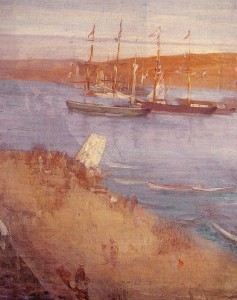 Those of you who check in at Kathryn Jean's Bouncy Castle may have noticed a rather sweet article by Michael Potemra posted on Friday night after the passage of the Marriage Equality Act:
But here, tonight, I see neither the face of anarchy, nor that of a nascent "North Korea." I see smiles on young people — and also, on some quiet senior citizens who are actually old enough to remember Stonewall 1969.

And speaking of 1969, here's a little bit of perspective. In 1969, Spain was a conservative religious republic, led by the legendary Generalissimo Francisco Franco; and New York City was already Babylon-on-the-Hudson, well on its way to being the crime-sex-drugs-porn-and-atonal-music capital of the world. If I had said to you then, "Forty years from now, one of these places will allow homosexuals to marry each other with the blessing of the state" . . . well, let's just say you would have made a lot of money if you had bet on Spain.

Spain did it in 2005, six years ahead of the Empire State; and now we have it here in ol' Babylon. I call it Babylon affectionately; let no one question, on this night, my patriotism as a citizen of the state of Alexander Hamilton, Theodore Roosevelt, and the Marx Brothers.
Of course, Saint Kathryn of the Inaccurate Conception is having none of that, because she is aware that allowing people in love to marry each other is, of course, the worst sort of oppression:
Do not be so quick to dismiss the North Korea comparison, Mike. We are witnessing tyranny today that is fostered by a false sense of freedom, a tyranny that faux tolerance ferments.
In response, the wonderfully named Jason Lee Steorts gets in a quite lovely bit of snark (although he does feel the need later to apologize to She Who Must Be Mocked for his unkind language, which is a little bit like the Titanic apologizing to the iceberg):
So it is your view, Kathryn, that the action of democratically elected representatives, who are accountable to the citizens of the State of New York, is tyrannical in a way that justifies comparison to North Korea, a state in which an absolute ruler has burned people alive in a stadium. Okay. But now I want a new word for what "tyranny" used to mean.

I would like to see the reaction of a North Korean refugee to your claim.

It would also be nice if you troubled yourself to make an argument.
The only problem, of course, is with the idea that an incoherent hater like K-Lo would be able to string any argument together in a manner which doesn't sound like a fat Jack Russell coughing up a king-sized chew ball.
Mr Potemra responds to the apparently quite measured responses from NRO readers to his first article with his own zinger:
One of my favorites deplored gay marriage as sending us down the road to "the full 'gay' morally relativistic agenda" which will result, if we permit it, in "materialism at high-tide." Now, this is an objection I take very seriously indeed, because I think materialism is a great danger to the soul, especially in a wealthy country such as ours. So I hope we never reach those vilest depths of moral decay, the ones my reader is so worried about; and never become a country so overtaken by materialist excess that a respected conservative presidential candidate will have a million-dollar account at Tiffany's to buy gifts for his wife. The gays will sure have a lot to answer for, if that ever happens.
Forget about the gays buggering each other in the streets. When the Corner starts to be amusing, you know the end times are upon us.
[Image: The Morning after the Revolution, Valparaiso – James Abbott McNeill Whistler (1834-1903)] [Edited slightly well after first posted to make one of the jokes much funnier.]