This is the front yard veggie garden for our community house in Portland, OR. That front box is 24 feet long! If you look closely, you can see my current project: adding herringbone brick in between the boxes ;)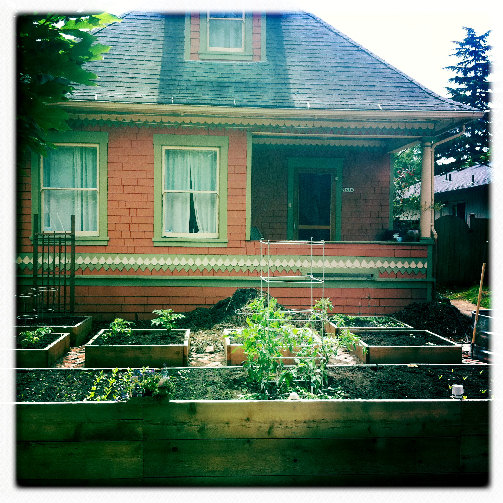 ***********
I have to admit: I covet those tidy raised beds almost as much as I do the fishtail shingles, Andrew. Our front (flower) garden is dual raised beds, approximately just-too-wide by as-deep-as-the-space-permitted, assembled from three-high landscaping blocks as time and my middle-aged-fat-broad-with-a-weak-back energies permitted. The only reason the neighbors didn't torch the place during the several summers while construction was 'in process' is that it looked even worse when it was supposed to be a lawn.
***********
So… how's everybodys' gardens looking on a Sunday morning?
__
And who's got plans, gardening or otherwise, for the day?