Wedding was lots of fun, and I'm home prepping for the inevitable late night as the usual suspects wander over. My house, despite the fact that it is inhabited by a cranky misanthrope, is kinda sorta the safe house party house of last resort. Which I like, because I like people on my terms.
I'm making up an Irish coffee and cranking some tunes.
On the down side, I think Rosie picked up the kennel cough that Ginny and Guesly were treated for last week, as she was horking and hacking. Fortunately, my vet and his partner will be one of the folks stopping by. Just have him do a quick look at the bitch and schedule an apt. for Monday.
*** Update ***
Thought I would post some live action pet pics from a late night at the Cole household:
Tunch:
Lily: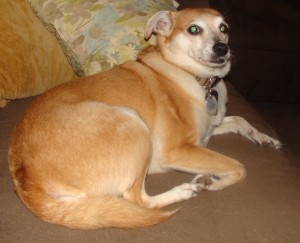 Spawn of Satan Rosie: