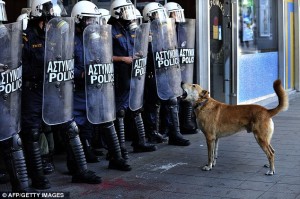 This is cool:
This is one dog whose bark is definitely worse than his bite.

Loukanikos, a stray who lives on the streets of Athens, Greece, has become an unlikely celebrity… for his dedication to anti-government protests.

The clearly opinionated mutt has been pictured on the front line of protests, dodging tear gas and barking at riot police, for the last three years.
Quite a contrast between the United States and Greece, isn't it? Here our manly men arm themselves to the teeth and act like stormtroopers, invading your home and shooting your dog while you sleep. Half the time they've charged into the wrong damned home.
There- they just ignore the damned dog.
Think about that the next time you hear some wingnut babbling about the freedom agenda.