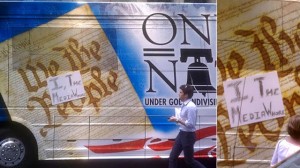 Those of you who have been reading my little posts for a while will know that I do everything I can to avoid coming into direct contact with Sarah Palin ever since I was a judge on the Miss Alaska pageant all those years ago.
After that experience, and our little plane trip together, I trust Sarah about as much as I'd trust Roman Polanski around a particularly attractive twelve year old. However, I do like to keep tabs on her and, after reading about her little bus tour, I was determined to get someone on the inside.
My dear friend and fellow Shady Pines resident Sandra Frazer volunteered. In the end it only took one phone call. Sandra crapped on about how unfair the people at Wikipedia are and how she and Marge Albrechtson are both devoted followers of Sarah and, above all, both very rich and slightly senile, and before you could say "You're so much prettier than that Bachmann woman", they'd been issued a personal invitation to visit Sarah in New Hampshire.
Sandra and Marge were waiting outside the Yankee Fisherman's Cooperative in Seabrook. Marge has been skipping her meds and, while she wasn't in a violent mood, she did keep slapping at her herself to quieten down the squirrels she'd stashed in her knickers that morning before she left Shady Pines. There was a lot of squeaking and complaining going on, although I understand most of it was coming from the pack of journalists who were also waiting there.
They're such filthy hairy little things, always pissing themselves and biting people for no reason – by which I mean the journalists of course, not Marge's squirrels who are generally quite well behaved.
Sarah arrived first in her SUV, followed by Todd and Piper and the rest of the entourage in the Palinbus. Sarah was very polite, especially after she spotted that big ol' diamond ring that Sandra was wearing – the one that Jimmy Carter gave her after he broke off their affair back in 1983. Sandra said it was like one of those cartoons where Daffy Duck's eyeballs turn into dollar signs, and Todd even had to rush in to wipe the drool off Sarah's bottom lip. Sarah wasn't even fazed by the two pairs of beady rodent eyes peering at her from out of Marge's purse.
Sandra told me that Sarah was looking quite good, although she appeared to be wearing something from Donatella Versace's Piggly Wiggly collection. Even Todd had made an effort and had worn his best Megadeth t-shirt – the one without any obvious holes.
After Sandra managed, with some difficulty, to get her hand back from Sarah, Sarah fetched Trig out of his storage box at the front of the bus where they keep him when he's not in use, and then wandered off with him to have some photographs taken next to some dead fish.
Marge and little Piper set about making friends. The only squirrels Piper had even seen were either roadkill or food (and possibly both) and so she was quite impressed when Marge started producing them from her clothes like some slightly confused musician from Hamelin. Soon they were yammering away to each other and they both went off to talk to some lobsters in a tank out the back.
Sandra was left alone with Todd.
Now, Sandra may be 72, but she's still a well preserved and handsome woman – the result of decades of facials made from pituitary glands untimely ripped from impoverished Cambodian orphans and a large amount of whalebone under the kind of stress that makes diamonds out of coal. She also likes her men big and dumb. Show her a Carhartt baseball cap, a farmer's tan and an expression of amiable stupidity (cf. Jimmy Carter) and her ovaries start fizzing like Kathryn Jean Lopez in a seminary.
Todd was doing his usual thing of staring off into the distance and mumbling the lyrics of Whitesnake songs, so he didn't notice Sandra's quite obvious interest until she grabbed him by the front of his sweatpants, dragged him behind some convenient bushes and pounced on him like Oprah Winfrey on a baked ham.
Fifteen minutes of impassioned kissing later, Sarah arrived back at the bus with half a dozen lobsters under one arm and Trig under the other. Todd's hair was a little askew and he was holding a clip-board carefully in front of the Little Dude, who pointedly refused to go down, but there was otherwise no sign of what had happened so far.
It was time to head off to the clambake, which was being held at the summer residence of Jeff and Elizabeth Davis, two of Sarah's staffers, although it took a while to locate Piper, who had been playing hide and seek with Marge. She'd hidden herself in a pile of cod and no one could find her until one keen-eyed fisherman noticed that one of the cod seemed to have a bow in its hair.
Sarah and Piper and Trig and Marge all got into the SUV. They offered to give Sandra a ride too, but she begged off, saying that Todd had very kindly offered to show her his collection of velvet paintings of dogs playing poker, and so she was happy to ride with him in the bus.
Sarah was in her element, chatting to the press when she arrived at the clambake, schmoozing with such luminaries as John Sununu, and watching Piper and Marge playing Hide-the-Rodent with Trig. All was going well until halfway through the evening when Sarah realised that she hadn't seen Todd since they left the co-op, and wandered off to find him, carrying a plate of food.
Sandra told me, with what I must say was only the merest hint of embarrassment, that when Sarah threw open the door of the bus, releasing a cloud of amyl nitrate and marijuana smoke that must have made Andrew Sullivan's nose twitch six states away, Sandra was on top of Todd, stark naked, mid-orgasm and shouting "Ride me like Paul Revere!" at the top of her voice.
The words "wild, screaming, hair-tearing hissy fit" apparently do not begin to do justice to what then ensued.
Sarah lobbed clamshells at Todd, followed by the plate, and Sandra heard each of them hit his forehead with a pronounced thud. Sandra extracted Little Todd from her nether parts and made a break for the door, leaving behind her red Dior suit and some very new Jimmy Choos. She says that the last thing she saw before she managed to escape was Sarah advancing towards Todd brandishing a plastic spork and screaming that she was going to cut off his "fucking Levi Johnston".
I won't bore you with the sordid tale of how Sandra managed to convince John Sununu to lend her his limousine to get to the airport, or how in Sarah's absence Marge cornered several journalists and started raving about squirrels and how they want to take over the country – You can expect that to be taken up as part of the Tea Party platform any day now.
In finishing, however, I will just note three things. First, that the news reports, while noting that Sarah and Todd's motorcade managed to break several road rules after leaving that clambake, just before the Sarah Palin bus tour was "postponed" indefinitely, entirely failed to mention Todd's amazing ability to drive a bus with one hand clamped to his crotch to staunch the bleeding.
Second – the last time I saw Sarah Palin on the television she seemed to be wearing a very nice red Dior suit and some quite adorable Jimmy Choo slingbacks, which goes to show that beggars can't be choosers.
Finally, that Sandra came home from her last appointment with the gynecologist – menopause having been staved off for years because of all those Cambodian hormones – with a little surprise. It won't be easy raising a baby in a retirement home, but we'll do our best.
We're thinking of calling it Clam.
[H/t for the image to the gorgeous
Rumproasters
.] [Cross posted at
Sarah Proud and Tall
.]