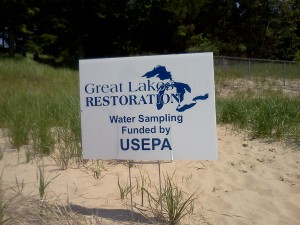 I'm at Lake Michigan. I saw the sign pictured when I visited a public beach today. I'm at that beach maybe every three months, and it's the first I've seen the sign.
This is Great Lakes Restoration:
The Great Lakes Restoration Initiative is the largest investment in the Great Lakes in two decades. This action plan covers fiscal years 2010 through 2014 and addresses five urgent focus areas:
Cleaning up toxics and areas of concern;
Combating invasive species;
Promoting nearshore health by protecting watersheds from polluted run-off;
Restoring wetlands and other habitats; and
Working with partners on outreach.
I was really glad to see the sign, because I was reading about Ohio conservatives and their plans for Lake Erie last week, and got sick to my stomach.
First, some background. This is the 2008 interstate compact on the Great Lakes:

A decade in-the-making, a historic pact is now in place to safeguard the health of the world's largest surface freshwater resource for generations to come. President Bush signed the Great Lakes-St. Lawrence River Basin Water Resources Compact into law in October 2008, days after it won approval in the U.S. House of Representatives and a month after passing the U.S. Senate.Now begins the implementation phase for the eight-state water management pact, a first-of-its kind model for a consensus-based, basin-wide approach to decisions about how much and how far away Great Lakes water can be used.
Unfortunately, the compact left implementation up to the individual Great Lakes states, leaving a gaping hole that the grifters, clowns and thieves in the GOP in (first) Indiana and (last week) Ohio rushed in to fill:
It's a pact that either balances Ohio's environment and economy or sacrifices Lake Erie in the name of big business profits. Regardless, Ohio's attempt to write between the lines of the international Great Lakes-St. Lawrence River Basin Water Compact is flowing at a flood's pace toward Gov. John Kasich's desk.With a single Columbus Democrat joining Republicans in support, the House voted 60-37 to approve a bill allowing heavy manufacturers, mining operations, power plants, and other businesses to draw up to 5 million gallons of water a day directly from Lake Erie before facing regulation.
Any regulatory compliance is voluntary. Yeah. That'll work.
"We can do both," said the bill's sponsor, Rep. Lynn Wachtmann (R., Napoleon), owner of a water-bottling company that draws from the watershed . "We can protect the environment, and we can also make sure that jobs are protected, that economic growth is protected, and that's what [this bill] does," he said.
The bill implements the regulatory side of the Great Lakes compact that was crafted to unite the region in protecting the freshwater source from poaching by thirsty states and nations. The compact was approved in 2008 by eight states, two Canadian provinces, and Congress. But the compact left it up to the states to develop standards for "reasonable use" of Great Lakes water. Ohio's proposed thresholds exceed those of all other states. Only Indiana has thresholds for Lake Michigan and its watershed that rival Ohio's. Michigan has set its limit at 2 million for direct lake withdrawals.
So media favorite Moderate Mitch Daniels went racing to the absolute bottom on environmental protections for Lake Michigan, and the dupes and clowns in the Ohio legislature followed him and did the same for Lake Erie.
"We don't want to be the state with the highest taxes," said Rep. Terry Boose (R., Norwalk). "We don't want to be the state with the lowest thresholds of whether you can use water out of the lake".
He's lying, of course. It's difficult to tell because he's incapable of forming a coherent sentence, but with the Governor's signature on this law Ohio will be the state with the highest thresholds of "whether you can use water out of the lake".
Here's wild-eyed Leftist environmentalist and former GOP governor Bob Taft:
Former Gov. Bob Taft today joined Democrats and environmentalists in opposing a plan by his fellow Republicans to allow large amounts of water to be drained from Lake Erie without a permit. In his first appearance before a legislative committee since leaving office in 2007, Taft told an Ohio Senate committee that provisions of legislation being considered "directly conflict" with the Great Lakes Compact signed during his administration. He said House Bill 231 would "weaken the protections to the waters of the Great Lakes" and "invite litigation against the state of Ohio."
The GOP ignored Taft and the scientists, and the bill is now speeding to Governor Kasich's desk. It is absolutely terrifying that the survival of Lake Erie is wholly dependent on a former Fox News personality who has absolutely no interest in governing, conservation, water use, or anything else having to do with the state of Ohio. We can all just hope former Governor Taft is right, and the conservative brain trust in the legislature have somehow managed to write law that violates the treaty they promised to honor just two years ago.